I noticed over the past few days that I was experiencing some rather unexplained feelings.  I have been feeling a bit anxious and moody.  Usually I am pretty good at "diagnosing" my inner feelings, bring them to the surface and take the appropriate steps to resolve the feeling of unease.  This skill that I just described is very valuable but it can only be acquired one way:  brutal honesty.  I have to get honest and avoid the temptation to let things slide or put them off to the side.  No, asking myself the hard questions and not allowing myself to rest in what I really know are temporary fixes is the key.
By now if you are still reading this you might think I am crazy because I just admitted I regularly have conversations with myself and sometimes the "conversations" get heated!  Also, what has been going on with me over the past week hasn't subsided in the way I just described and so it has added to my confusion and anxiety.  I personally believe that if situations like I am describing in life don't make sense its because I am dealing with incomplete information.  I was missing something and I probably wasn't going to figure it out until the missing piece of information or variable became apparent.  Thankfully, a couple of days ago it did!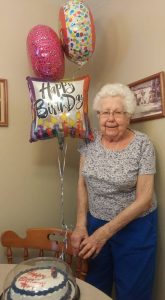 The missing piece was the approaching anniversary of my mom's birth.  Were she still living, she would be turning 93. (I am actually writing this on what would have been her birthday!)  As a minister, I have frequently found myself in the position of trying to offer comfort and consolation to those who are grieving the lose of a loved one.  I am no stranger to death and have presided over 100's of funerals.  But when my mom died, everything changed.
What I have been feeling over the past few days has been the renewed feeling of having a huge void in my life.  Yes, I know that I am not the first or the last who will experience loss in this way but frankly that isn't the point.  The point is that the connection I shared with this now gone godly woman is real and I deeply miss it.  I am not ashamed to admit it because it doesn't mean there is anything wrong with me.  Actually, it rather confirms that I am a human being.  The point is that grief doesn't cooperate with our timetables and to try and manage it like that is going to lead to even bigger problems down the road!
And so I don't try to manage like that.  I don't push it aside and deny what's going on.  I am not thrilled with the occasional times when, like this week, I can't quite figure out what's bugging me.  Now that 2 1/2 years have passed since her death, the moments of being "bugged" are fewer and farther in between.  I also revel in the fact that missing my mom so much reveals the quality and intensity of our relationship.  If living life occasionally in a bit of a funk is the price I am required to pay for having that type of relationship with people like my wife, parents, brother and some very dear friends, so be it.  It's a small price to pay for the beauty and freedom of having other human beings who reveal to you their true self and allow you to do the same.
Sadly, many of us have not invested in those relationships.  What's more, many Christ-followers have sought those type of relationships pretty much exclusively only within their biological families and missed the directive of Scripture to move in that direction with respect to one another within the Body of Christ. For me, I am making the conscience decision to be more transparent and open, especially to those within the Body of Christ.  I know that comes with risks but what in this life doesn't?
For those who live in close proximity to me, this all means I am going to be less concerned with trying to maintain an image of what you or anyone else might think a "Minister" is supposed to be like.  That doesn't mean that I intend to live my life in a sloppy or undisciplined way.  Hardly!  It simply means that when days like the past week happen, I won't ignore them or deny them.  It means there will Sundays or other times when you see me that I seem a bit off just as I will need to learn how to accept and consider the same with you.  My hope is that with the time left that God allows me, I will have to good fortune of getting to share in the lives of others in ways sort of like I got to share with my mom.  Risky, but worth it!