Last night at the Discipleship Training Course I asked the participants to think about and identify 3 people who, whether they wanted them to or not, were following them.  I was reading through the responses this morning and found them interesting.  The first thing I noticed is that people found it fairly easy to identify at least a couple of people.  Next, I noticed that several included a high percentage of family, particularly younger members of their family.  I suspect this is probably normal to think in that way.  There is quite a bit of empirical and anecdotal evidence to back it up.  Probably if we thought about it, each of us have picked up some habits or mannerisms from a family member either a generation or two ahead of us.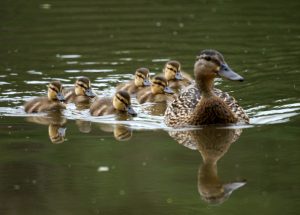 Of course, the point of asking the question was really to get us all to thinking more about the influence that we have in the lives of others.  My sense is that we discount the amount of influence our life has on others and won't really see it unless we take a glance backward to see who's following.
Thinking about following and followers is something all Christ-followers (see, there it is!) should be concerned with.  Yes, the nature of our relationship to Jesus is that of a follower.  The word Disciple means "learner" or "apprentice" or "follower".  Looking at it from another angle, Jesus commissioned His disciples (followers) to make disciples (followers) throughout the world.  Christ-followers should have a keen understanding and awareness of how to follow as well as mindful that others are following behind.
One of the things I find very stressful in life is when I am asked to lead someone to a destination in the car.  Having been on the other end, of following another driver to an unknown location, I know it can be a harrowing experience.  Some lead drivers lead just like they would if there were no one following.  When approaching a yellow light, they zip through it.  They don't use blinkers and give the impression that if I arrive safely fine and if not, oh well!  Some lead drivers lead like the person following is clueless.  They drive in such a way that other drivers get frustrated and the whole experience makes you anxious.  But then there are the drivers who lead in such a way that are easy to follow because they are watching both the traffic ahead as well as the follower behind.  Choosing this way usually leads to good results and the anxiety of traveling to a new area is eased.
This is also the way it works with following Jesus.  Jesus is leading in a way that takes us to the new places we need to go but in a way that is mindful of the other factors, the traffic, around us.  But what we sometimes don't realize is not only is He leading us, He is showing us how He wants us to lead others.
One key way that thinking about this has helped me grow in my walk with Jesus is that it forces me to see that as a Christ-follower I do have people following me, whether I want them to or not!  Its bad enough to be unfocused in my walk with Christ if its just me being effected.  But realizing others are watching and following helps me to stay focused.  So, why not take a glance backward and see who is following?  Why not take a look inward to see if how we are living is worthy of following?  And why not look up and see where your King wants to take you today?