As most of you involved with the Itawamba Christian Church probably already know, we are going to be hosting a Friend Day on November 7.  The idea is that each of us reach out to the people in our circle of influence who either aren't Christians or who don't have a Church home to visit here.  This is done in hopes that such an introduction might be the start to either a relationship with God through Christ or a renewal in what was started sometime earlier.  Since we are just a couple of weeks away from that event, I was wondering how you are doing in figuring out who to invite and if you have already invited them.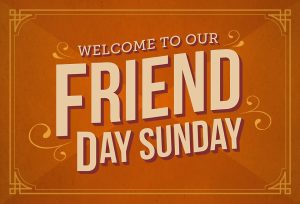 Some I know will struggle with this assignment for a variety of reasons.  One reason that I commonly hear and want to invite you to reconsider is the common belief that "everyone in Mississippi already goes to Church" or "I don't know anyone who doesn't go to Church".  This is really a myth that I would humbly ask you to seriously reconsider.  I have seen statistics for Itawamba County from the 2010 census that directly refutes that assumption.  According to the census, 58% of people in our county do not identify with a religion or regularly attend Church of any kind.    To put that into perspective, 58% of the 2010 population of 23,401 is 13,573!  Let that sink in just a little bit.
This might seem to be shocking on the surface especially given how many congregations exist in our county and how much we here God referred to in the course of everyday life but the fact remains, many of our family, friends and neighbors aren't connected to a congregation or even to Jesus at all.
So, let me ask you again.  How are you doing in figuring out who to invite?  Let me suggest you start by refusing to accept the assumption that people aren't interested.  Last night while helping clean up after the fellowship supper, I noticed a teenage boy who I didn't know but had seen coming to the Wednesday night classes for teens.  I introduced myself and then mentioned that it was so good he was coming on Wednesday nights.  Then, I asked him if he went to worship on Sundays.  His answer was no.  I told him how much it would mean to me for him to come here on Sunday morning and then asked him if he would consider it.  He said I could expect to see him.
Personally, I think the Itawamba Christian Church is a congregation where many pre-christian and disconnected Christ-followers could find answers.  The congregation certainly isn't perfect, but many of our new members have shared with me how being in this congregation has been refreshing and enhancing to their spiritual journey.
Maybe another question to think about as well is this:  Why wouldn't you invite someone close to you to attend with you?  Yes, they might say "no".  Or they might say "yes" but then not attend.  But some will come and wouldn't it be amazing to be the one who cleared the way and opened the door for them just a bit?
So, you have a couple of weeks to figure all this out.  Could figure out a way to positively invite that friend or relative for Friend Day?  Could you tell them how much it would mean to you to show them this cool congregation?  Aren't you really their friend?  Let's all Be a Friend and take that step to change eternity in the life of someone else!