One of my favorite metaphors from Scripture regarding God and us, His children, is that of Shepherd and sheep.  I envision a beautiful pastoral scene where the Good Shepherd has led His flock to feed and to drink.  The sheep enjoy the bounty provided by the Shepherd and can do so with the calm assurance that they will be guarded and kept secure.  It's a beautiful picture!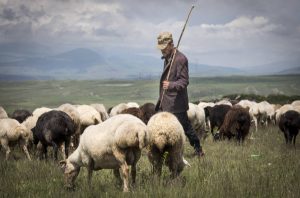 This is but one of the times that sheep and shepherds is used as a metaphor for life within the Kingdom of God.  Interestingly, in Christ's Church, those who have been tasked with providing spiritual oversight and guidance are referred to as Pastors which is simply another word for Shepherd.  In Congregations like the Itawamba Christian Church this role is tasked primarily to the Elders or Overseers but others like myself also find ourselves put into that role.  In the Church, the Shepherds are to watch over the sheep, guide them, provide for them and generally do whatever to help the flock to thrive.
One of the complicating factors that covid 19 has brought to leadership teams within the Church has to do with determining how to best shepherd the flock of God.  I suppose it wouldn't surprise you to hear that pretty much everyone has their own idea about covid 19!  Some are scared to death!  Some think it is really no big deal!  Some within our government and other agencies have made the situation worse by telling us a various times they "know" the best things to do only to later change their minds, usually with a fresh set of things they now "know" are correct.  Questions about whether it is safe to meet, whether or not masks should be required, social distancing and the like are continually asked but depending upon who you ask, the answer will widely differ.  In the midst of this chaos, leaders of the Church have a mandate from God to shepherd His flock.  I know first hand from talking with the elders of our Church that this is an anxiety producing situation.  Not only is there the issue of whether or not we should be meeting but what about those sheep who have made the decision to this point to stay away?  Obviously, people with underlying health issues should stay at home.  This seems to be where pretty much everyone is in agreement.  But what about otherwise healthy people who we haven't been able to see around the Lord's Table on a Sunday?  What is a Shepherd to make of the fact that even though we are providing online worship experiences, the number of people watching is declining?
I don't mind telling you that the thought of people taking steps backwards in their walk with Christ is something that is very, very troubling.  So back to the title of this post:  When should the Shepherds be concerned?  I hope you will prayerfully think about your current situation and analyze the quality of your walk with Christ, now nearly 10 months into Covid, whether you have made the decision to rejoin in-person worship or are opting to stay at home.  I know the elders as well as myself and Bro. Ryan would bend over backwards to assist you with any spiritual issues you may be having.  I have been so impressed with this congregation!  I am learning firsthand how beautiful the fellowship here is and I hope all of us are not just surviving, but thriving in this situation and I don't want you to miss what is a very beautiful thing!  May God bless us all as we move forward in His name into 2021!