What Will Covid's Effect Be on Itawamba Christian Church?  I suppose asking this question on January 13, 2022, might seem a little strange.  Now that we are nearly 2 years into this situation, I can understand why some would say the question is a little late!  To be true, covid has been in the back of my mind for virtually all the time I have lived in Mississippi.  Part of my questioning about the effect of covid at this point in time reflects that reality.  I really don't have a sense of what normal life was like prior to covid so perhaps you can understand my question.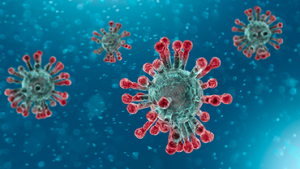 I do ask the question on this day because with every passing day and every new dimension of covid, the question resurfaces.  Part of what is guiding my thoughts is a conversation I had recently with a man who works with congregations all over the country by helping them think through challenges related to their ministries.  This man has the perspective of hearing reports from congregations all over the country.  He was asking me what effect I saw covid causing on the congregation here and as I was explaining some of what the past 2 years have been like, it dawned on me.  Maybe I don't have a very clear picture because of the timing of my arrival here.
Over the course of the conversation, I asked him about what trends he was seeing around the country with respect to the health of congregations especially in light of covid.  His answer was almost chilling.  This man, who has been in close proximity to the trends and patterns within congregations of so many, told me that covid has changed the spiritual landscape of the Church in America.  I pressed him for more information, and he gave me example after example of how seemingly healthy congregations are now closing their doors.  It seems that for a variety of reasons, the thing that had held the congregation together failed and what was left was a mere shell of what seemed to be.  Honestly, his assessment was very hard to hear and a bit depressing.  To think that people had poured the lives into various ministries, only to see it dry up in the midst of the pandemic.  My mind immediately turned to Itawamba Christian Church.  What about us?  How will we handle the latest waves of covid?  What will the extended struggle reveal about our congregation?  What if covid, or something like covid, becomes the new normal?
Thankfully, the conversation with this man didn't end there.  I think he sensed my despair and began to tell me the other side of the story.  He said that for many congregations covid has helped to better define the priorities within the congregation and they are thriving, perhaps in ways that defy logic.  As I asked him to explain he told me of congregations, all over the country, of varying sizes, with all types of worship styles who were experiencing renewal during the time of covid existence.  When I asked him if there was a common link, he said it centered on each congregation's intentional focusing on what the Church is supposed to be about. Congregations where the Kingdom of Jesus, the reaching of the lost, the development of the found and the advancing of Jesus into the world was prioritized seemed to be experiencing good spiritual health and even growing in the midst of a pandemic.  Wow!
I think it is possible we can all get weary from dealing with this situation.  I know I feel it and have had to remind myself to give greater attention to my own spiritual walk.  If you are feeling a bit weary or even if you are really feeling major discouragement, let me encourage you to do some things I am also doing.
Intensify my daily reading of God's Word.
Spend additional time with God in prayer, particularly expressing to Him how I am feeling.
Reflect on how important fellow Christ-followers are!  The fact that we need each other will be tested by the Devil and you as well as your congregation will suffer.
Take some time to reach out to others who you think might be struggling.
Ask God to reveal to you those areas that need to be stripped away that are causing His work in you to be slowed and take a step to move toward Him.
The Church of Jesus Christ is alive and well and will never be destroyed!  Let us not be discouraged but face the moments of discouragement with renewed effort to draw near to our Protector and Shepherd!