I remember about a year and a half ago that the Kansas City Chiefs, the team I have followed from childhood, were in the Superbowl and in fact prevailed in stunning fashion.  As a new season is now here, I was looking back at the Chiefs pennant proudly displayed in my office.  I haven't quite navigated the whole SEC College football experience yet.  I know it is king in Mississippi and eventually I will have to pick a team to cheer for but for now I am happy to straddle the fence and be happy or sad with those various fans I see the day after their team's weekly battles have taken place.  Anyway, back to the Superbowl.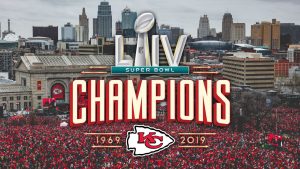 I remember as the game ended I sent a text of jubilation to my son, an avid Chief's fan as well, expressing my joy that "we" had won the Superbowl!  He, too, was beyond joy and it was a great time of sharing a special moment that had taken 50 years to happen from the last Superbowl victory.
Now, I know what you are thinking.  Yes, its true that neither me nor my son were on the 53 player roster that played that game of football.  In fact, neither one of us were anywhere close to the actual site where the game took place.  Still, we both had no problem at all saying, "'we' had won the Superbowl"!  I don't think we are the only ones who feel that way when a team we like and cheer for finally win it all.  In fact, just a few months ago, when the Mississippi State Bulldogs were crowned champions of College Baseball, I heard the "we" come out of some of your mouths!  I am pretty sure you weren't playing that day either!
So what is the point?  We can get so attached to things like sports teams that it feels like when they win were are right there with them and probably when they lose, we feel that as well.  Meanwhile, if you are reading this blog post there is a pretty high probability that you are actually a member of another sort of team.  By now, you have probably figured out that the team I am talking about is the Church.  (a pretty safe assumption for a preacher's blog!)  So, don't stop reading now!  You've come this far…why not find out the point I am trying to make and see if it does or doesn't apply to you?
My question is:  are you on the team or are you a fan of the team?  Are you down in the trenches with others who are eagerly searching the Scriptures and serving the King?  Are you faithfully gathering for the Huddles (Sunday School & Worship) to then go out and execute your part in the coming week or someone watching from the sidelines?  Are you taking your place at "practice" and learning the fundamentals in order to skillfully perform when called upon?  Is your first loyalty to the Coach (King Jesus) and His Team (the Church) which you have been added to?
Those who are "on the team", I mean "really, on the team" share a bond that those outside of it will never know!  Just like me and my son can say "we won the Superbowl" we are really only kidding ourselves.  For those of us who are on "His" Team there are many distractions.  Sports, rest, family, leisure and the like all vie for time and priority in our lives.  All of them have their place but for the Christ-follower, only one thing can be number one and that is our commitment to Christ and His Body, the Church.  Part of the daily struggle we must navigate is figuring out for ourselves and if we have children, for them, the priorities of life.  I know its not easy and the pressures of the world are immense.  I continually pray for those on the "Team" with me here in Fulton that you will make they best choices in terms of your time priorities and will learn how to say yes to the best things.  I know that Covid has made things even more complicated than they were before.  The truth is that only you know what motivates the choices you make.  My hope and prayer is that we will all make the best choice!  And, I look forward to "Huddling" with you this Sunday!