When I was a boy, a familiar group activity among my friends was a tug of war.  It was always fun to battle it out and hope that your side would be the victor.  Many times the "prize" for winning was simply "not" ending up in a patch of mud or some other mess.  Usually the winner was fairly predictable:  the side that had the bigger, stronger people would usually prevail so my strategy, given I was often younger and smaller than the others, was to end up on that bigger, stronger side!  That's how it usually went but not always!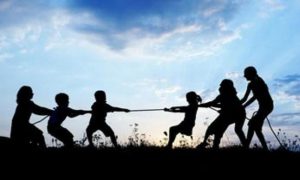 Last Sunday in my sermon, I was describing type of tug of war that takes place within our minds.  Our enemy, the devil, is determined to present thoughts that either are just lies or are designed to make us question what we are seeing as God's thoughts.  This second strategy is the one that reminds me of a tug of war.  The devil says this but God says that.  I suppose since the devil has been defeated, I really shouldn't have a problem choosing which thought I will go with.  Many times that is true, but not always.  Here are a couple that I am currently wrestling with:
The first is the tug of war between Hope of the resurrection on one side and Grief on the other.  I of course am a strong believer in the Hope of the resurrection.  Because Jesus bodily rose from the dead (that's the definition of biblical resurrection) I know that when He returns, I shall also be resurrected with a new physical body that is more physical and perfect than I can even imagine.  I believe that because I believe the Bible is true and the Bible is clear about this.  I know this is true for all who are "in Christ" even though they have already passed away.  I also know that my heart still breaks when I think about my parents.  I miss them dearly.  I think about them everyday.  I can't go through a day not wondering what they would think about me moving to Mississippi, Covid, family, etc.  When I experience something great, my first thought is that I will tell my dad.  My next thought is that I can't.  And so the tug of war goes on.  The winner is always the Hope of the Resurrection but that doesn't mean my hands don't sting a bit from the rope slipping through them and burning as I grieve and miss them.  What's weird is that while on one level I really don't want to deal with this struggle anymore, I can't help it because I love them.  And so I am learning to live with the paradox that so many followers of Jesus live with:  Grieving, but with Hope.
A second area of continual tug of war exists between Faith and Fear.  2020 could be called the year of the tug of war.  I am not alone, I know, in this tug of war.  As the uncertainties of Covid 19 mount, the tug of war between Faith and Fear intensifies.  Fear usually seems to be winning when I learn that someone close to me has tested positive or that there is an outbreak around me.  Faith seems to be winning when I reflect upon the reality that God is in control and that He desires His children to move forward, often when the world is retreating.  Afterall, history tells us that it was the Christians who consistently moved into harm's way in dealing with previous epidemics or uprisings or crisis.  Of course, Jesus looked death squarely in the face and submitted to it.  Please don't read this and think I am suggesting we need to not be cautious as we deal with Covid 19.  That is NOT my point at all!  My point is that I am feeling the sense of tug of war with respect to it!  What about you?  As I suggested before, maybe like Hope and Grief, Faith and Fear will be battles that need to be won, perhaps daily.  Confidence today could easily turn to terror tomorrow.  With that in mind, could I urge you to join me in being gracious to all?  What I believe we all need is some kindness and understanding, the awareness that others are struggling and need encouragement, not criticism.
These are just a couple of examples where a tug of war exists within me.  I am fortunate to not have daily concerns about food, shelter, transportation or employment but many other Christ-followers do.  We are all living with struggles of one kind or another.  Let's respect one another and the journeys we have already come as we try to be a blessing to the next step needed in our particular journey for Jesus.
Here's something else that helps me immensely in my struggles:  knowing that I am loved by King Jesus, by my wife and family and by you is a strong force!  I hope you have a wonderful time of Thanksgiving and that you grow in grace in the struggles you currently are facing.