One of the realities of living in Northeast Mississippi is that during a significant part of the year the threat of severe weather exists.  None would think it odd this time of year for the sky to darken and soon hear the sirens that warn citizens that the possibility of danger is eminent.  More than once, when my wife and I were travelling with others through the community of Smithville, the subject of the tornado of 10 years ago is mentioned.  The presence of so many new structures and the still seen evidence of the storm on the landscape are sobering reminders of what can happen if the storm makes a direct hit.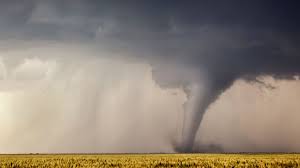 Of course, weather forecasters are tasked with predicting where the storms are heading and are continuing to hone their skill on narrowing their predictions to where the "direct hit" will occur.  There are so many variables which make the work of weather forecasters a nearly impossible job.  All of the previous data gleaned from history can suddenly be worthless if the storm takes a slightly different path or either intensifies or diminishes without so much as a warning.  That's the way tornados are and that is why they are so dangerous.
Oftentimes people who are used to the reality of tornados can hear the warnings but not take them seriously.  I find myself falling into this category.  Living around tornados all my life has taught me that the likelihood of it hitting me is statistically insignificant.  So when I hear the sirens, I usually don't pay much attention.  If it keeps going on for a long period of time, I will probably give it more thought and perhaps step outside to see what I can.  But truly, I must admit that if the tornado is going to hit my house, I probably won't be prepared.
Just writing that in this blog is a bit sobering.  I won't be able to blame anyone but myself if that happens.  I am sure the weather forecaster had been sounding the alarm.  But the problem is that if the weather forecaster sounds the alarm too often with no resulting ill effects, the citizens will come to hear it but "not hear it".  Raise the alarm too often and people stop paying attention.  Not raising the alarm means people could be harmed!  I am really glad I am not a weather forecaster.
I am however a preacher and I find myself, like the weather forecaster, giving warnings to people about a coming reality.  I remember as a boy hearing preachers who would go on and on about my needing to get things in my life figured out because when Jesus returns, it will be too late.  Many a Sunday left me unnerved to the place where I either couldn't sleep or I couldn't experience sleep without nightmares.  The moment would pass and my nerves would settle and life seemed to get back to normal without much real change taking place in me.
The Apostle Paul, writing to the Churches in Corinth say, "For we must all appear before the judgment seat of Christ, so that each of us may receive what is due us for the things done while in the body, whether good or bad."  2 Corinthians 5:10
This means that "we", Christ-followers will 100% for sure be meeting Jesus at the end of age in order to give an account for what we have done as a part of His Body, the Church.  There is no plan B.  Paul makes this crystal clear.  While the weather forecaster does their best to warn of POTENTIAL circumstances that COULD happen, the warning we see here in the Scripture is in fact going to happen.  The only question is when.  This sobering reality or warning is one that I think about often.  Now that I have been redeemed through Christ as His resurrection defeated death once and for all, I have been tasked with cooperating with His Spirit to bear as much fruit as possible and therefore glorify King Jesus!  Instead of fearing the time when I will truly come before Him to give an account of myself, I am thinking, planning and acting in ways that will make that coming experience one that will show Him how much I appreciate the gift of salvation He so extravagantly paid for me, and for all humanity for that matter.
If you have read this blog post this far, please stay with me for just one more thought.  For me, Paul's warning isn't a warning, its an opportunity and promise!  If you are a Christ-follower and reading Paul's words and feeling anxious, it probably means that you need to give some attention to what life on this planet is really about.  For Christ-followers, once again as the Apostle Paul says, "For to me, to live is Christ and to die is gain."  (Philippians 1:21)  If you are not a Christ-follower, God has a wonderful gift He would like you to receive that will impact your every moment of life going forward.  If you haven't found that yet, I would love to help you discover it with you!