I have had a love/hate relationship with asparagus.  Let me explain.  Asparagus was one of the vegetables that my parents included in the garden every year.  Mom and dad really seemed to like to eat it but I thought is was really gross!  It looked funny and tasted funny.  The good news was that the growing season for asparagus was short.  The bad news was that our garden was prolific in its production of asparagus so it seemed like every evening for supper, asparagus was on the the menu.  Oh…and if it was on the table, you ate it.  There was no debate and no reason to argue.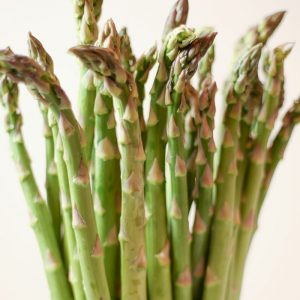 Fortunately, the asparagus production was so strong that it was creating a situation where we couldn't eat all the asparagus.  My dad had the idea of having me go out into the neighborhood and try to sell it.  He sweetened the deal by telling me that 1/2 of  what the asparagus brought would be mine.  I like the sound of that and so I eagerly went out and actually found people who liked asparagus enough to buy it and in no time I had developed a list of clients who I could visit regularly and sell the disgusting stuff.  I also noticed another side benefit.  The more I sold meant my mom didn't have it as often for supper.  So, not having to eat it and getting paid to boot!  It was beautiful!
I pretty much avoided asparagus during my teen and early adult years.  I could usually find a way to not eat it without being rude.  And then my world changed!  I had been invited to a gathering where to my horror, asparagus was playing a prominent role on the menu.  There was no way I was going to be able to avoid it so I took a little and prepared to grin and bear it.  As I did finally eat it I was shocked.  It was delicious!  I couldn't believe I was eating and enjoying asparagus!  The difference:  the way it had been prepared.  As a boy, my mom would boil it and serve it with some kind of weird sauce.  This time is was grilled with olive oil and lightly seasoned.  It was great and I couldn't get enough!  Now I occasionally order asparagus when dining out.
This is a story about asparagus that really isn't about asparagus.  What I mean is that while the story is really true I really hope that it will help make another point that I am eager to make but that often times people can't or won't accept as true.
My intended point:  Effective growth as a Christ-follower requires our submitting to several disciplines or expressions, not just the one's we like or might be particularly good at.
Just as a balanced diet is required for effective development and maintaining health, so it is also with our spiritual development and health.  I have noticed that many Christ-followers gravitate toward one or two particular areas of what I would call the Christian experience.  The Christian experience is made up of things like public worship, Bible study, serving in some way within the Church and serving in some way outside the Church, etc.  I think this explains why some Christ-followers view weekly worship as not as big of a priority as others.  Or how some Christ-followers attend every possible Bible study or training meeting but aren't involved in service to any degree.  I have met many Christ-followers who love "doing" and so serving inside and outside the Church is where they will always be found.
I guess what I would like us all to see is that something that God intends for us to experience in order for us to be the best Christ-followers we can be might be like asparagus was to me.  I didn't like it and therefore I avoided it.  I think the term for what I a describing is that for me asparagus was an "acquired taste".  If public worship doesn't seem to be "your thing" instead of avoiding it until you can't, why not lean into it and decide to give yourself more to it?  Why not change things up by sitting in a different pew or intentionally singing and reading when asked to do so congregationally?  Why not commit to pray that your "tastes" would change so that what God says is life changing for you can be appreciated as such?
These "why nots" can apply to each of the other areas I mentioned earlier:  Bible study, serving, etc.  What we don't often understand is that there are consequences to having a Christian experience that is out of balance.  As a Christ-follower and Minister who believes one of my principle tasks of ministry as equipping all the saints within the Body of Christ, I see those consequences daily.  Those who only value Worship tend to have a shallow, experience-driven walks with God.  Those who only value Service tend to not be able to connect their wonderful acts of service with the bigger picture of God's Kingdom.  Those who only value Study tend to become prideful thinking they know more than others.  There are other effects:  inability to grow and thrive, inability to overcome things like habitual sins and the list goes on.
I am grateful that my mom made me eat my asparagus.  I am more grateful that she and my dad modeled a balanced Christ-follower lifestyle and saw to it that I experienced in ways that have brought me to where I appreciate and treasure them all.  I pray that each of us will look closely at our situations and see if perhaps we need some asparagus in our diets!  And no, I'm not really talking about asparagus!