A couple of days ago when I was looking at Facebook, I noticed a "Memory".  These reminders of past things we have posted is an interesting feature.  The particular memory that caught my attention featured a picture of several molasses cookies being rolled out, cut, baked and iced.  I appreciated the reminder of that project because the particular recipe I was using for the cookies was my mom's.  She annually made them and they were my favorite Christmas cookie.  I thought it would be fun to make them again only this time, I would be able to share some the finished product with my mom.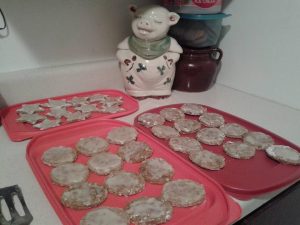 It didn't take long into the process to realize that there was much more to it than I realized.  Of course, when I was a boy, my only recollection of the cookies was how much I love them, not their production!    There was the gathering of ingredients, the mixing together and then the tedious process of rolling them out.  Next, there was the use of the cookie cutters to make them especially festive.  Mom's cookie cutters included angels, gingerbread men, stars and she used a glass jar to form the cookies shaped like balls.  Then they were placed in the oven to bake only to be taken out to cool.  And finally, when they had sufficiently cooled, they were iced with a special glaze that had been enhanced with a variety of food colorings like red, green and yellow.  What a lot of work for a bunch of cookies that would be quickly gobbled up!
In the end, they were worth it and I am glad she took the time to make them year after year along with all the other Christmas cookies and candies she made with the help of my dad.
Lately I have been thinking about the process of how Christ-followers develop into fully formed followers of Jesus the Messiah.  Candidly, I have been a little frustrated with it.  At every turn it seems I encounter obstacles to the progress of God's followers and as one who is tasked with not only sharing in the guiding of people through the processes of spiritual development but also providing a large amount of the content, it causes me concern and wonder.  My wonder centers around the idea that maybe there is a better way and that I am not aware of it.  Since so many of the dimensions of spiritual development involve a reordering of priorities, time and resources, how to get folks who have a desire for such development to take the next steps towards achieving it?
I think part of the answer goes back to my mom's cookies.  First, she followed the recipe "religiously" (pun intended)!  You won't end up with a proper final product if you don't follow the established, tried and true roadmap called a recipe.  Change some of the ingredients or the oven temperature and you will compromise the end product.  Hurry through the process and you might regret it later.  The joy of seeing it all come together is pretty special.  I know for sure how much my mom knew I loved her cookies.  Not only because I would often nearly make myself sick from gorging myself on them but because when she would ask me as an adult what I wanted for Christmas, my reply was always the same:  your molasses Christmas cookies.
So when I wonder about the tedious nature of helping people mature spiritually, hopefully I will remember my mom's cookies.  I will go back the recipe, God's Word, to make sure I haven't missed anything or have it out of proportion.  I will keep following His recipe knowing that He will complete what He has started.