We find ourselves nearing the middle of the month of October.  That may not be such a big deal to you but it is for me.  The monthly emphasis in October that many congregations have embraced across the country to use this month to be intentional about expressing appreciation to the ministers, pastors and preachers in their world is in full swing.  Here at Itawamba Christian Church it means the daily looking forward to someone doing something special to say thanks.  Each year we are overwhelmed with folks' generosity and friendship.  I have to say that it makes me feel very special and it challenges me to strive even harder to do my best.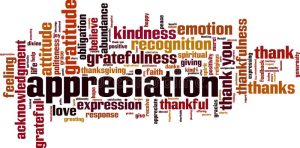 As the days of October fly by, I have been thinking about the idea of expressing appreciation, particularly the positive effect it can have on others.  I suspect that my enjoying appreciation and responding to it with even greater effort is not just something I feel or do.  I suspect that it might be true for most if not all of us.  If that is true, then imagine the difference we could make in the world if we started on our own personal campaign to regularly express appreciation to those we come into contact.  I am not suggesting that we start an "Appreciation Month" for each of the various people who provide service for us.  What I am talking about is finding simple, meaningful ways to express appreciation to the people in our lives that often go unnoticed and unappreciated.  Like…
…your child's coach, who deals with second-guessing and criticism to pass on something they love?
…your server at the restaurant, who showed up for work, is being over-stretched, do their best?
…the folks picking up our trash who are there in good weather and bad?
…the veteran who gave so much and wonders if anyone cares?
I could go on and on mentioning people who we could impact positively with a simple word or gesture of appreciation.  What I am suggesting is that we might develop the habit of appreciating others and while we are at it, why not give up the habit of being critical and negative anytime something doesn't go exactly the way we think it should.  I know that often times my best efforts fall flat and can be a disappointment.  I am grateful I don't have a chorus of folks pointing out what I have already been beating myself up about.
So how about you?  Would you join me in being more intentional in expressing appreciation to those we encounter?  Would you at least give it a try and see how much better your life and the life of others around you might be?  I suspect it could be a gamechanger, one appreciative word at a time!