According to the Merriam-Webster dictionary, Focus is defined as: (a) center of activity, attraction, or attention or (b) a point of concentration, directed attention.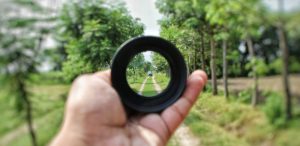 Focus is a critical dimension to grasping new concepts and the completion of tasks.  Focus has applications in literally every area of life.  Whether you are fishing, memorizing Scripture, following a recipe, learning new guitar chords, reading a book, talking to a loved one, flying a plane, planning a trip, taking a test, focus is really the key to finding success.  People who understand this truth are able to achieve great things!  People who understand this truth about focus have also learned to accept the corollary that goes along with the benefit of focus:  Focus requires me to make choices!
By definition, focus requires the choice of something and the rejection of something else.  That may sound a bit harsh because using the word "rejection" somehow bothers us.  Perhaps this is why focus is so elusive.  Saying no is not popular in our world, unless of course you are going through the terrible 2's!  But seriously, why is it so hard for us to say "no"?
Since becoming the preacher at the Itawamba Christian Church I have preached 10 sermons.  If you would like to make me smile, consider your response to the following statement and see if you can respond correctly:
"The central theme of all 10 of Bro. Tony's sermons has been:  ______________________________."
     For those of you who will take this challenge seriously, let me take some obvious answers off the table.  If you answer:  the Bible, Jesus, God, etc. you are technically correct but not really "focusing"!   LOL!
I'm not going to reveal the answer here.  My hope however, is that you will go back and consider what you have heard from me in the past 2 1/2 months and give it some thought because I truly have been trying to fine tune my preaching and even my teaching on Wednesday nights to a central theme.  Which really leads me to another thought:  how do we decide that upon which we choose to focus?  I can tell you that my decision with respect to what I am preaching and teaching is very intentional or should I say, focused.  I can tell you that as I am preparing sermons and lessons I have a very clear thought in my mind.  In fact, the picture of it is so clear in my mind that it sometimes disrupts my sleep and has caused me to rethink and reorder my daily life and plans for the future!
So, how do we decide that upon which to focus?  Again, I am not going to answer that here but if you listen closely, with focus, you will discover the answer to this question.  Sorry to leave you hanging but some things need to be discovered by yourself as you choose to value this over that.  I will give you a hint: the next 2 Sunday's sermons will give you the answer very plainly stated!  I look forward to sharing it with you and hearing your responses.