2020 has been a year for the record books!  The impact of covid 19 has been felt around the world and touched every home in one way or another.  One of the new terms that now flows from our mouths is "social distancing".  This, of course, has to do with the suggestion and/or mandate from our governmental officials to keep a distance between ourselves and others so as to not spread the virus.  We are advised to steer clear of each other, keeping at least 6 ft. distance between us.  Now we are being told that expressions of greeting like handshakes, hugs, etc. should probably be reconsidered, all in an attempt to spare ourselves and others from this virus.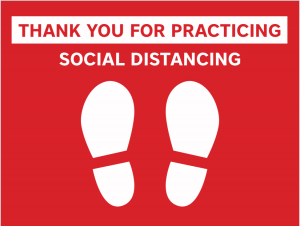 I am optimistic that the effects of this virus will subside and that our wonderful medical personnel and care facilities will be able to manage the needs of those who catch the virus and need help to recover.  I am, however, concerned that the call for "social distancing" will increase and will accelerate as the culture, and even the Church move forward.
What often gets lost in all of furor of the virus is the truth that "social distancing" is really not a new concept at all.  People have been choosing to put distance between themselves and others for as long as there have been people.  Within the last 20 years we have seen an increase in the intentional distancing from others.  The most common manifestations of this are:  food take out/delivery increases, increases in data usage on cell phones and other electronic devices, increases in shopping from places like amazon, increased usage of Netflix and other video on demand video sites, and we haven't even mentioned the Church yet!
Perhaps you are wondering, "how are all those examples of 'social distancing'"?  They are because each is an example of intentionally avoiding the idea of community.  We are increasingly seeing ourselves as individuals instead of living within the reality of community.  This should send alarm bells for leaders within the Church!  First, Church is synonymous with community!  So much of what it means to be a Christ-follower is to learn the art of living with other redeemed persons to represent the Savior until He returns.  Additionally, we have been called not to distance ourselves from other people but quite the opposite.  The community known as the Church is ideally made of women, men, old, young, all races, all nations, all social-economic classes, ALL!  All who have surrendered to the truth that Jesus is King or Lord of the world.  We are not to be moving away from people but moving toward them.  We are not to be living lives unto ourselves but rather to the betterment of the community of faith.
Sadly, the Church has been guilty of practicing a type of  "social distancing", especially with respect to race, gender, denomination and social class that has taken its toll by limiting the transforming power that God envisions for His Church.  We have often not complained when those who are different come into our midst but we have been hesitant and even resistant to go and search them out and meet them where they are.  The Spirit is calling us to go and it will only be by His power that the differences which divide us will be bridged.  Christ's work of redemption has made us each Ambassadors for the King!  In other words, we are the "Essential Workers" who move into the darkness with the Light!  Let us be eager to confidently move forward with the Gospel of Christ to all:  those with whom we are comfortable and those who we are not!  For the sake of the King!