One of the not so fond memories of my childhood involved parent/teacher conferences.  By and large I was a pretty good student.  I usually got A's with an occasional B and once in a blue moon a C.  Most parents would be happy if their children had consistently good report cards like that but my parents weren't.  Part of the reason they had such high expectations is because when they would daily ask me how things were going at school I would always tell them that I did great, no problem, it's all good.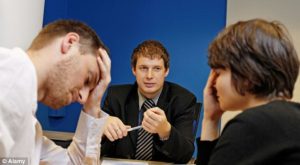 Then we would come to the parent/teacher conference.  It was during this horrifying meeting of my parents and the teacher that reality would come out.  I hadn't always done great.  I was being a bit of problem sometimes.  All was not good.  My only hope of redemption was if somehow my parents' focus could be diverted from my antics and inconsistencies in the classroom and on to something that inspired even more passion.  Most of the time, such a diversion was just a hoped for fantasy.  But every once in awhile, lightning would strike and the focus of the parent/teacher conference would end in a different way.  The most common diversion, one that I could count on about once a year involved a often passed comment of the teacher to my parents that was something like "Tony is sure a different student than his older brother".
Growing up in a small town meant having teachers who spent perhaps their entire careers teaching in that one school and perhaps even grade.  This meant that almost every elementary teacher I had, my brother had already had, 3 years earlier.  My brother is the quintessential student.  I don't think he ever got a low grade or acted up in class.  Me, I liked to socialize and school was my arena.  I would hurry through my work, proving just how smart I was.  Oh, never mind the silly mistake that was made because of carelessness or inattention to details.  Because my work was done, I needed to entertain myself and often the rest of the class by any means necessary.
I am sure that the teachers did wonder if we had the same parents!  But my mom, who was typically very quiet, non-confrontational and just plain nice would get really angry when an unsuspecting teacher would make the observation about how different I was from my brother.  When my mom and dad returned home from the parent/teachers conference, little was said about my report card because my dad's attention was focused on getting my mom back to her normal self.
I always liked that about my mom.  She had a wisdom about her that not only saw the differences in her children, she celebrated it.  I think she really heard the part in the Bible where it speaks of how each part of God's family, the Church, is different from the other parts.  Each is "gifted" in such a way to build up the other parts of the Church as well as to advance God's ongoing Kingdom project.  While I have always struggled with certain insecurities about who I am in Christ, she seemed to get it as she comfortably and confidently went about her life at home, at work, at Church, everywhere.  And all along the way she was affirming the worth of her children by encouraging each to find their own way.
How reassuring it has been in my life to have such a one who always was cheering for me, expecting MY best, not someone else's and living that same reality herself?  That probably explains part of why I miss her so much.  But while I am missing her, I am reminded that before my mom showed me all this, God loved me, made me what and who I am, and is cheering me on.  He doesn't expect me to be like every other one of His children, but He does want me to really be who He has made me to be.
The Bible says that there is another "conference" coming in my future.  It will not be a parent/teacher conference but rather a Master/servant conference.  At the end of the age, when Jesus returns, all who are in Christ will give an account of what they have done as a part of Christ's body, the Church.  One thing I know, God won't get distracted!  I also know that I will only give an account of myself.  The prospect of being judged by the Lord is both frightening and exhilarating.  Frightening because I still see the sloppiness in my life that plagued my early school years and I know God's standards.  But also exhilarating because as I faithfully serve God with the time, talent, and treasure He has loaned to me, I know that I am making deposits into an eternal account that will be mine in the new heaven and new earth.
My hope is that all who read this will know how much God loves you and desires for you to fully become the truth of what He created you to be.  I am happy to share that journey with you as your Pastor and friend.