Camille and I had the pleasure of attending the Itawamba Agricultural High School football game last week.  We witnessed a very competitive contest with the happy outcome of the home team coming out on top.  As the game approached halftime, I notice the assembling of the two marching bands who would be performing during the game's intermission.  I was kind of excited!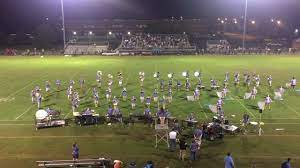 Spoiler alert:  God didn't bless me with very much athletic ability but I found a home in the Band!
Not only did the halftime show bring back pleasant memories for both of us as people who participated in marching band many, many years ago.  I was immediately transported to the days when my children were taking their place in the marching band.  It was great!
I also noticed that many stayed in the stands for the halftime shows as each band played their hearts out.  I suppose I should also say that as the IAHS band started their show I was taken aback by how much more precise and articulate their movements and playing was.  The creativity of the show was impressive and even better was the effort of the members as each did their part.  The crowd showed the appreciation by cheering when they were finished and we were ready for the 2nd half of the game.  The connection between band director all the way down to the each player and flag person was apparent and I really appreciated the effort and skill.
As a Minister in King Jesus' Body, the Church, I am keenly aware of the importance of each area of ministry life, particularly the areas which enlist and integrate workers into various areas of service.  Like the primary focus of the football game was football, there were many other endeavors going on that require equal effort and skill, just in different areas.  In a congregation, we often think the Sunday morning worship service is the "main event".  While it is true that some very critical events take place there that will help us all reach our Lord's intended goal, there are so many other important dimensions being pursued which would definitely be felt in the "main event" if they weren't also being tended to effectively.
Hopefully what you are reading here is an invitation to explore the variety of dimensions of serving our King.  Maybe preaching, teaching, singing, playing are the places you excel.  What's most important isn't the title or role but the effort and skill we employ doing that service.  So whether or not we are have athletic prowess or are cheering along in the stands or marching in the band or selling what looked to be some amazing BBQ nachos, do it well and put your heart into it.  If you are a Christ-follower you know that Scripture encourages us similarly:  "Whatever you do, work at it with all your heart, as working for the Lord, not for human masters…"  Colossians 3:23