I have never attended a Tupperware party.  However, I was really impressed with their little toy that was designed to teach very small children how to match shaped objects with corresponding slots with the additional bonus of reinforcing hand/eye coordination.  You know…putting round pegs in round holes, etc.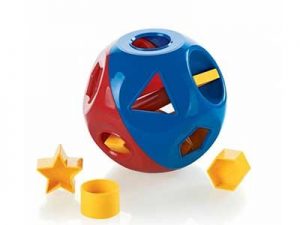 I remember how impressed my son was when he got his hands on the toy.  At first, he started trying to chew on it.  It wasn't that he wasn't clever.  At his age, everything went into his mouth as he was teething.  Next he seemed pretty impressed with the bright colors and the fact that he could shake it and a rattling sound followed.  He also was pretty excited to be able to carry it by its handle as he walked around, still learning the fine art of not falling down.
Eventually, he got to the "important" part.  He opened the toy up and began to look and consider the individual shaped objects.  As one would expect, he tried each object into a single slot until he found the right shape to fit.  This really made him happy and was cause to celebrate.  I would then coax him to do the same with the other shapes until all of them were inside the toy.  Once accomplished, he loved dumping them out again and starting all over.  I couldn't believe how much this toy captured his attention.  I also was pleased to see that in no time he was able to move from a trial and error approach of inserting the shaped objects to a very determined and confident manipulation of the toy to receive the object.
Sadly, the toy which once brought great joy to my son became a toy that rarely got used.  He grew up.  He moved on to more challenging toys and was learning skills that were more complex but very much dependent upon the earlier toy which sat at the bottom of his toy box.  As his parent, I was of course thrilled by every new challenge that he faced.  Parents may come to believe that their child's development is happening too quickly but would never want it not to be that way.
I have noticed in doing my work as a Minister that perhaps getting that old toy out for a refresher course might be beneficial.  No, I haven't had a setback in my hand/eye coordination or any other need related to childhood.  What I am talking about is the often used practice of trying fit certain shaped objects into slots they really don't fit or were designed to do or be.
Let me explain.  I have come to understand from Scripture that God has called us to be His and has fashioned each of us for works of service, prepared in advance by God Himself.  (Ephesians 2:10)  This means that since coming to Christ, we have been gifted/redesigned to function in a myriad of different ways that will bring glory to God.  Sadly though in the Church, we have a limited imagination where God envisions great diversity and innovation.  We often ask people to fill roles or do tasks which they simply weren't created to do.  You know, like trying to force a square peg in a round hole!  When they end up experiencing futility or frustration, we often compound the problem by joining the futile effort of essentially applying even more pressure to try to make them fit anyway.  The result is scandalous.  Often the eager servant is damaged to the point of never wanting to try again while others watch on and are critical of the obvious "lack of commitment" from that once eager servant.  And that isn't even all the damage.  Those who would have properly fit into the needed role are never given the opportunity.  Instead,  they too end up outside of what God's design for all His Called, the Church is.
There is a better way!  We need to go back to the nursery and discover what my son did!  Every shaped object does not fit every shaped slot.!  Not everyone fits every role with the Body of Christ.  Trial and error will be needed to see what the right fit or role is.  Everyone does have a role for which they are designed.  We all need to think bigger and bolder when considering the Kingdom and our role in it.
I love the role I get to have within the Body of Christ!  In addition to preaching and teaching, I enjoy helping guide people into potential roles of service and being prepared to help them refocus if what originally is thought to be a good fit turns out to not be so.  The bottom line truth:  We must never give up searching for our place in God's Kingdom until we find it!  There are no bench warmers!
So my encouragement to us all is this.  If you are a Christ-follower, God has created you especially to serve Him in a perfectly fitting way.  If you haven't figured out yet what that is, please allow people like myself to help you by showing you opportunities to experiment and the freedom to say "this isn't what God made me to do" if in fact that is what the experiment reveals.  I am grateful for wise people in my past who have provided me with such guidance and am eager to carry on this godly tradition.  See you in the nursery!