The month of October is slowly coming to a conclusion and with it comes the completion of Minister Appreciation Month.  I had been duly warned that Camille and I should get ready for an outpouring of "appreciation" the likes of which we had never seen before.  With the month nearly gone, I can report that the warnings were in fact correct and we have been treated to a daily offering of appreciation that I suspect would be hard to find anywhere else in the country!  It has been amazing and humbling.  As I have been trying to find a way to respond to it I must admit I am a bit speechless.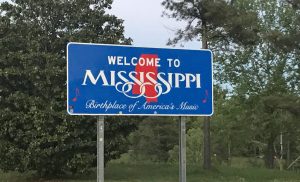 You will be happy, I think, to discover that this condition of being speechless won't last forever.  I do like to talk!  There is one takeaway from this month of appreciation that I wanted to mention to you.  In several of the interactions we have had with folks as they have shared their "happies", we have been asked either directly or indirectly a familiar question.  "So, how are you liking Mississippi?"  That seems like a fair question.  Its a question that I would probably ask someone who has recently moved to an area that is pretty much different from where they have lived before.  But, and maybe its just me, I also hear in that question a curious wonder about whether or not the move is being still seen in a positive light.  Maybe how I am hearing the question is more like:  "Do think that Mississippi will feel like your home or are you maybe longing for some other place?"
I thought I would use this forum to answer both.  First, we really, really, really like Mississippi!  And that's in the midst of a pandemic!  We love the parsonage, we love the Church, we are thrilled to have amazing people in so many capacities within the Church to work together with.  The Elders have been so gracious to us with respect to having time away to visit with our families since they are so far away. We have already been able to see some of our family venture to Mississippi for themselves to visit us.  We love the weather (yes, even the muggy summer!), we love the food (maybe too much!), we love the natural beauty but most of all, we love the people.  Yes, Mississippi is a different place but we are so glad God steered us in this direction.  We haven't regretted the move for a second!
So, to answer the second question, No, we aren't longing for some other place, except for when we get to enjoy eternity in the New Heaven and New Earth.  We feel God has placed us right where He wants us and that has been our prayer to Him.  We intend to serve Him here as long as we possibly can.  You have made us feel welcome and have allowed us to be who we are as followers of Jesus.  You have done an incredible job of opening yourselves up to us personally as well as embracing some of the new ideas and ways of seeing God's Church that we have explored together since being here.  We love you much and eagerly anticipate many years, if the Lord wills, of serving together, laughing together, crying together and eternity together.
So, as Minister Appreciation month winds down, I just though you ought to know how we feel about you too!
PS:  Camille agrees to the content of this blog and approves of this message!