Many years ago I read a book called "The 7 Habits of Highly Effective People" by Stephen Covey.  It was one of those kind of trendy books that caught the attention of much of the country.  I was curious and decided to read it.  It had some interesting and helpful words that I have tried to implement into my daily life.  One of "Habits" that stuck with me was the 7th:  Sharpening the Saw.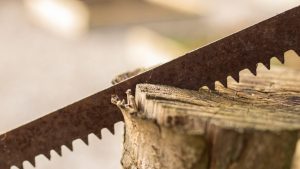 This "Habit" is taken from a biblical reference found in Ecclesiastes 10:10:
"If the ax is dull and its edge unsharpened, more strength is needed, but skill will bring success." 
The point of this last Habit is the realization that human beings need to regularly dedicate time and resources to their refreshing or renewal.  This habit acknowledges the reality that things like rest, distraction, dedication to learning new things and in general, taking care of ourselves is an essential part of our overall health and well-being.
I can remember when I was diligently striving to integrate all of the 7 Habits into my schedule that I would actually schedule time I referred to as "Sharpening the Saw".  This really came in handy when someone might call or drop by and ask if I had time.  Not ever wanting to turn someone away, I would often says "yes, but that I have an appointment in a few minutes".  The appointment was with myself and I didn't want to short-change it!
I think part of becoming the people, the genuine humans, that God envisions us becoming is learning to accept and cooperate with the limitations that we have as humans.  How many really talented and eager people have found themselves burned-out, perhaps even having given up, because they refused to take the time to Sharpen the Saw?
What about you?  For me, Thursdays are days when I am wrapping the week's work up and putting my mind right for what is coming on Sundays.  Fridays and Saturdays are days when I schedule time to Sharpen the Saw.  So since I am writing this blog on Thursday, I am eagerly looking forward to some time away from NOT thinking about the pressing challenges I face.  Please don't misunderstand.  I love my job and those pressing challenges I face!  I love the various aspects of my life as a Minister.  I love the  preaching and teaching as well as the hours of preparation.  I love the counseling I get to provide when called upon.  I love the administrative challenges of helping our Elders better oversee the work God has given us.  But, after awhile, I get tired and need a break because I too am a human.  What's awesome is that if  I spend the time sharpening the saw, I will be much more effective with my other tasks.  Ignore the sharpening and the rest will suffer.
I would love to hear how you sharpen the saw.  For me, I enjoy shopping with my wife, enjoying delicious donuts at Scarlett's, puttering around in the yard, listening to music, reading and exploring our new home State!  Sunday will soon be here and I want to be my sharpest on Sunday because I get to worship the King with you and participate in your spiritual development through preaching and teaching.  I hope when I see you this Sunday you will be rested and sharpened too!