I love the word serendipity.  What a funny sounding, weird word!  Even more, I love the serendipitous moments of life.  I am talking about the moments in life where when you least expected it, a grace or benefit comes your way.  I have experienced serendipity in a variety of settings.  I seen it happen in a Bible Study when the convergence of God's Word and eager learners is graced with a fresh insight that no one expected.  What's more, those moments usually stick with us and end up being rather profound and meaningful to us.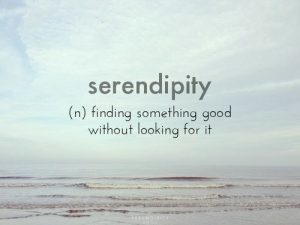 I had an incredible serendipitous moment last Friday.  I knew as soon as it happened, I would need to tell you about it.  It was a doozy!!!  Camille and I were enjoying a banquet where Ministers were being honored since October is Pastor Appreciation Month.  One part of this banquet was the special honoring of one special Minister and his wife.  I didn't know either of them but listened as a bit of their life story was shared with the group.  One thing stood out to me:  these honored servants were originally from Kansas.
My ears perked up and I thought to myself, "I wonder where in Kansas?"  The moment passed and the banquet continued with a wonderful meal, beautiful music and a challenging message.  At the end of the banquet, Camille and I were making our way to the exit and of course stopped by the restroom.  As I was waiting in the lobby, I noticed the earlier honored Minister waiting as well.  He was carrying the beautiful plaque he had received.  As he and I waited together, I extended my congratulations and appreciation for his faithful service to Christ.  I also was given my earlier pondered opportunity.  So I asked this 80ish gentleman, "where in Kansas are you from?"
At first, I think he presumed I knew little about Kansas and gave me rather non-specific answers.  At first, Eastern Kansas, then North of Fort Scott and then Linn County.  Each time as he gave more detail, my interest intensified.  You see, I am from Eastern Kansas, North of Fort Scott and grew up in Anderson County, which is right next to Linn County.  As I pressed him for more details he finally told me that while growing up in Linn County, he lived and worked in a little town called Greeley.  "Greeley", I exclaimed!  I finally revealed to him that I was from Garnett, a town 8 miles from Greeley and that was in Anderson County.  Weird, I know….but it gets better!
When earlier hearing his story when he was being honored, it was revealed that he had decided to become a Minister only after having worked in another vocation first.  Remembering that, I asked him what he did when worked in Greeley.  "I worked at the Co-op" he said.  I am sure the look on my face was one of shock!  "My dad worked at the Co-op at Greeley", I told him!  He asked me who my dad was and when I told him he joined me in being shocked.  "Bill Thornton" he exclaimed!  "Bill Thornton is your dad?  He was my boss!"  He went on to tell me a bit about my dad that I never knew.  We reminisced about all things Kansas and particularly Anderson/Linn County.
So consider this:  2 preachers who had never heard of the other, meet by "coincidence" in Memphis and because of a passing curiosity discover that their lives had intersected years before.  AND what made this such a meaningful encounter to me is that I got to find out that my dad, who now is with Jesus, was a conscientious worker, respected boss and a bit of a character to boot!  I nearly cried after this encounter.  In fact, my eyes are watering now as I write this blog.  I feel like I received a gift from this encounter that is without price.
One more thought…I have since contemplated how fragile moments like the one I am describing are.  What if I hadn't heard the "Kansas" reference?  What if we hadn't shared that brief moment in the lobby?  What if I had been in a mood where I was more reserved and didn't ask the question?  What if I hadn't made time to go to the banquet?  I could go on.  Here's the point:  There was something inside me that just wouldn't let this moment pass.  I could have resisted but I didn't and because I was willing to follow my curiosity, I was rewarded with an almost unbelievable story.  Do you follow your curiosity?  Do you follow the gentle urgings as you experience them?  Are you so focused upon your plan or journey that you don't leave room for serendipity.  Personally, I believe the encounter I have described here is a gift from God.  I don't have Scriptural precedent to back my claim but I really think God gave me a gift.  I love serendipity and hope He sends me many more examples as I stay open and curious as His follower.