I am not completely sure when it happened.  Actually it has been a rather slow process that really intensified this past March when I turned 60.  I know that age is "just a number" but good grief, I can't believe that number is now mine!  I am a bit surprised at my state of mind during this season of life.  I am quickly approaching the time when many of my peers are either starting to retire or are actively planning their life away from the routine of work and I am not really thinking about it at all.
A couple of weeks ago I was visiting with a man who is just a year younger than me and we were discussing all of this.  He is in the last stages of getting his ducks in a row financially so that he can retire.  His plan is to move to a much warmer climate and of course, not have to work!  As we talked I was repeatedly disappointed that I wasn't able to get him to explain to me what he was going to do with all of this new-found time.  I took several stabs at it but the best I came up with is he intends to play golf very frequently.  Finally, I just asked him directly, "what are you going to do when you aren't physically able to play golf?"  I am still waiting for the answer.  Apparently he has amassed a nice tidy nest-egg that should provide him the financial security to just do whatever he wants.  Anyway, that's his plan!
He then asked me what I was planning for retirement.  Specifically, he wondered when I was going to "hang it up".  I told him that I was probably crazy but I don't really have a plan to retire.  The look on his face was "interesting".  It was what I would describe as combination of pity and confusion.  I told him I was finding great fulfillment in my work and was actually hoping to have the physical strength and keep my wits to be able to continue for who knows how long!
I am writing this not to say that he is wrong and I am right.  I am writing this to bring to all of our minds a scriptural reality that we often miss or don't understand.  Solomon, of the Old Testament, wrote a book known to us as Ecclesiastes.  In this classic book of wisdom we find a great nugget of truth that many of us either have never heard or simply refuse to accept.
It is Ecclesiastes 3:11:  "He has made everything appropriate in its time. He has also set eternity in their heart, yet so that man will not find out the work which God has done from the beginning even to the end." 
This passage follows that beautiful section of chapter 3 that tells us that there is a "time for every purpose under heaven".  A time for this and a time for that.  Time.  Time is one of the most elusive aspects of life.  Solomon's observations of this world had led him to conclude that humans need to be aware of the parameters of time and especially the apparent use of it by God.  But that isn't the point I want you to see.  Verse 11 reveals something fascinating about us and time:  Eternity.  Endless time or eternity is something God has placed in the hearts of us all.  This means that no matter how hard we try to ignore it, we can't.  We are only kidding ourselves when we say things like there is nothing more than what we experience here and now to life.  God actually did something really tricky with us.  He put eternity (the awareness that there is more to life than just here and now) in our hearts but He has also hidden the extent of it from us.  God is content for us to live with a certain amount of mystery, searching, striving.  The feeling of restlessness that I sometimes feel is natural.  Do you feel it?  I certainly do….especially as I get older!
Some deal with the restlessness by creating "bucket lists".  Some set out to explore the world.  Some start to search for the perfect cinnamon roll!  That is probably what would get my attention!  Actually what God intends is to get us ready for eternity.  As the day of experiencing it draws closer for me, and for us all, I am finding myself to be much more curious about it and longing for it.  This beautiful world still has a great deal of ugliness that needs the Kingdom touch of Jesus' followers.  The sad reality is that the job of restoring/renewing this earth won't be complete until Jesus returns.  The good news is that I have seen enough of what God's restorative work can accomplish to know what God is intending for His faithful is going to be better than a thousand cinnamon rolls!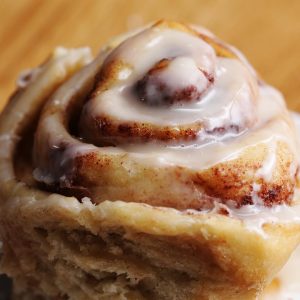 And so we live with a certain amount of restlessness.  God is in control and He has told us we can't even imagine how amazing eternity with Him will be.  But that doesn't stop me from trying!!!