Recently I was reflecting back on some of the madness experienced during the time when covid 19 was the only thing on people's minds.  Thankfully, we continue to see more and more signs of normalcy even though the virus continues.  As a Minister of Christ, I always tend to look at the world and humanity as a parody of what God really intended.  We can obviously see hints of valor and goodness.  There are often demonstrations of character, especially self-sacrifice.  But in spite of all the positive traits we might notice, the world isn't very much like what God designed it to be.  Human beings continue to live in a world that makes less sense as time passes.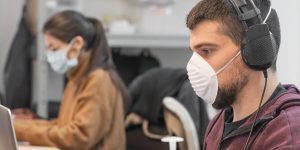 As a Christ-follower, I have the privilege of participating with other Christ-followers in picking up on God's design for the world and humans and putting it into practice.  The Church, the people of God, have been redeemed for that very purpose:
"and He Himself bore our sins in His body on the cross, so that we might die to sin and live to righteousness; for by His wounds you were healed."  1 Peter 2:24 (emphasis mine)
God envisions a people who have died to sin and now capable of living and being vessels of righteousness to do that very thing.  Scripture is filled with strategies, warnings, and patterns so we will get it right.
Sadly, we often don't get it right.  We don't get it right when we bring the attitudes and practices of the world into the Church.  A great example of bringing the attitudes and practices of the world into the Church could be seen during the epidemic when the world was having a debate over "essential" and "nonessential" workers.  This debate is clear evidence of how fallen the world really is.  Since the issue first started to get attention, many other side issues have popped up that essentially have further entrenched the idea that some people are important and others, not so much, at least not during this particular crisis.  Many people who work hard at often thankless jobs were now finding out how absolutely necessary they were to the nation.  This morphed into memes, arguments, and criticisms from all corners that picked up on these themes.  Meanwhile, the nation struggled for the basic staples of life like toilet paper!
Had did this all happen?  It happened because in the world, ALL work isn't valued!  We say it is and we all celebrate together on Labor Day but in reality, it's not true.
By contrast, the Church, the Body of Christ, the people who have been redeemed to help show the world how God intends for things to work in the world speaks specifically to this point in a variety of ways.  The Apostle Paul famously in 1 Corinthians 12 teaches about the nature of the Church, how it is made up of many different parts, each part serving a purpose, each part essential and each part to be implemented as an offering to the Lord.  The whole idea of essential and non-essential workers within the Body of Christ is an example of how the Church has brought the brokenness of the world into its midst.
As a Minister of Christ for nearly 40 years, I know that the Church often gets this issue wrong.  Instead of being an example for what God envisions, we have allowed the attitudes of the world to crowd in and take over.  Often the value that is lost is the value of respect.  If we don't respect that all work is good and valuable it is no wonder we see conflict and jealousy.  It is imperative for EACH part of the Body of Christ to give appreciation to all other parts of the Body.  Additionally, it is imperative that EACH part of the Body of Christ passionately serve in the way God has gifted it, knowing that the Body won't be functioning a peak ability without it.
I think it all comes back to respect.  Let's be paying attention to the way we treat each other and look to celebrate what is in someone else that Christ says I need.  In truth, in Christ, all are essential!  Let's get busy to show the world how it's supposed to be done!