One of the interesting dimensions of living in a family is observing how each family chooses to deal with certain subjects or questions that arise about life.  I learned, sometimes by uncomfortable trial and error, that certain questions were not to be asked and certain subjects considered taboo.  Some examples of those questions like that which were avoided in my family growing up might be:
Why does dad come home from work and is often very angry?
Why do we spend time with certain relatives and not others?
Why is life at home often not like what we talk about in Church?
And of course…anything that remotely had anything connected to sex!!!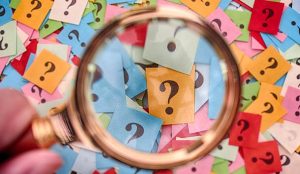 What I am not sure of is if my family was just very weird and right now you have no idea what I am talking about OR you have been transported back to your own growing up years and been reminded of what the "questions" or "issues" were for your family.
My suspicion is that we probably all have some level of this phenomenon in our histories.  My evidence comes from my experience over the past now 40 years of working in congregations of Christ-followers who routinely refer to themselves as "family".  What I have noticed in the Church is that we also have a set of questions or concerns that we have all somehow learned not to ask or raise.  Yes, occasionally a newcomer will innocently stumble into one of the taboo areas and there is a bit of nervous concern.  But it quickly fades away as the newcomer better learns the ins and outs of congregational life.
My hope is that as you read this you will in no way read into my meaning that I am cynical or critical of the Church or any congregation of Christ-followers.  I am just drawing attention to what I see as kind of a weird thing and wondering if you see it too.  Interestingly enough, I have noticed that some of the questions that we don't feel comfortable or safe to ask are very similar to what I experienced in my early family life.  Some examples in the Church:
Why is this dear saint of the faith often so very angry?
Why do we spend time with certain members of the congregation and not others as much?
Why is life within the congregation so much different than my life outside of it?
And of course…anything that has to do with sex!!!
What got me thinking about this is something I have been noticing over the past few weeks.  I have been routinely listening to sermons and reading books that correspond to larger general topics.  One of the general topics that has recently been my focus of consideration is Faith.  I noticed a virtually limitless number of books where the author skillfully defined Faith for me.  I have heard scores of illustrations that were designed to help people get their minds around this complex subject.  But the more and more I listened and read, the more I felt a question immerge:  Why can't I seem to see Faith in my life in the ways defined or illustrated?  AND  What am I supposed to do when I see so many of life's situations and know that I should respond to them with Faith but instead I choose doubt?
One of the great things that has happened to me as I am learning to deal with the fact that I am getting older and yes, at some point, I am going to die, is the freedom I am feeling especially with respect to these kind of taboo issues.  I have started asking the questions that probably will feel a little uncomfortable.  Let me assure you, they are still uncomfortable to me!  I make no pretense of having all of my walk with Christ at a level He would fully be pleased with but I have discovered that I won't make any progress in my quest to look like Him if I never ask the uncomfortable questions for myself.  I think my freedom also is born from the reality that I am going to be giving an account for my life in Christ to Him.  As a Christian leader, I know His scrutiny of my efforts will be more intense.  Again, as I move closer and closer to the finish line of life, I am feeling an urgency that has shed me of a lot of fear.
The longer we live in Fulton, the more we love our Church family at ICC.  I still feel giddy when I think that I get to be the preacher here!  With that said, our love for you requires me to help us all face the questions and taboos of Christian life that we all have but that are too often swept under the rug.  It reminds me of something we learned about Paul and his relationship with the Thessalonians.  As he celebrated their Faith and Love he challenged them to continue to grow in them more and more.  Keep growing.  Keep exploring.  Keep asking.  Keep expecting more.  That is what I am hoping to do with us!  And if you are wondering, Paul even had a candid talk with them about sex, which we will look closely at this week!  See you then!