Camille and I recently completed a whirlwind trip where we traveled about 3,000 miles in 8 days that saw us in 10 different states.  We were blessed to connect with most of our children and about 1/2 of our grandchildren.  We were able to see all of our siblings as well!  It was good to catch up with them, tell them a little about our life in Mississippi and hear new details about their lives.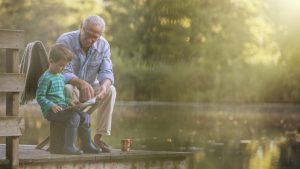 As we spent time in each of these places, we saw how each of our family members were engaged in what I will generally call hobbies.  As you would probably expect, each was pretty serious about these activities as could be seen by the prominence of items associated with the hobby.  One granddaughter is really into art and her room showed it.  She quietly worked on her current project while we sat around and visited.  She was definitely into it.  A couple of our grandsons were into the latest video game system.  I watched as they skillfully played the game against each other and eventually invited me to play with them.  As one might expect, I did very poorly and could see I was only slowing down their progress.  I assumed my position of watching and relishing in the fact that they were really enjoying it.
For about 3 of our days away we basically followed our family members as they shared their love of nature and sport.  Camille and I engaged in hiking at an altitude of about 12,000 feet, bowling, basketball and attending a professional baseball game.  Each of these experiences was fun in their own way and I was happy to participate.  Also, when the activity was finished, I was grateful.  I was glad that they were willing to share their life with me and considered myself blessed to have them want me jump in with them.
At some point, one of the grandchildren asked me, "Papa, what do you do for fun?"  Such a simple yet complicated question.  As I thought about it, I was having trouble with the word "fun".  When I think of fun, I typically think about the types of activities they were wanted to share with me.  But honestly, any "fun" I experienced in those activities was really only based on the fact that I was doing that activity with them and not the activity itself.
He could see I was struggling to answer what seemed like a pretty easy question and so he took another stab at it, "Papa, what do you like to do in your free time?"  Again, I searched for an answer.  The truth is that there is something I deeply love to do when I am "off the clock" (is a Minister ever "off the clock"?)  But what I love to do in those moments will likely not be seen as "hobby-like".  My hobby:  I enjoy reading about, watching, and thinking about anything related to Spiritual Transformation.  I love to listen to practitioners of Christian maturity, both current and long since gone, teach and model the practical dimensions of growing in Christ.  As you can probably imagine, the looks I receive from folks, when after they have pushed me to tell them what I like to do for fun find out what it is, are interesting.
Fortunately, Camille has a similar interest in such things and so this is an activity we can share together.  But when I told this to my grandson, he told me he didn't think it sound like "fun" to him.  And there you have it.  "Fun" to one person is often quite different than it is for another.  I remember when as a little boy my parents would torture my brother and I with Sunday afternoon rides in the car.  These rides were the absolute worst!  The idea of sitting in a car just "looking" at what passed by was not only not fun, but it was also keeping me from what could be fun. Today, I love driving around just looking at stuff.  It's funny how what we think is fun changes.
I am grateful to share in the hobbies of my family when we are together.  It gives me insight into parts of their lives that I wouldn't normally get to share.  But the real prize is spending time with them and watching them enjoy some aspect of God's good world.  Many of whom will read this are folks within the congregation I am blessed to serve as Pastor.  You are the people who we get to share life with on an everyday basis.  Honestly, many of the things we see as "fun" will differ.  I hope that that fact won't deter you from inviting us to join in anyway.  You see, just like with our families, your hobbies probably won't be appreciated and embraced the same way you do. But what will be accomplished is the opportunity to spend time with you in ways that we won't be able to experience within a Sunday morning context.  And I promise that when I get a bit excited about my hobby, I will give you a break when I see your eyes glaze over!