Its been an interesting time at the Itawamba Christian Church building the past few days.  The reason for the extra "fun" this week had to do with a rather unpleasant odor.  As the week progressed, the odor became more pronounced and several attempted to not only identify what was the source of the smell but also where exactly was it coming from.  I am happy to report that the mystery has been solved!  The source, a rodent, has been removed from his previous final resting place, "the pantry or ice machine room".  I am also happy to report that since the culprit has been removed the odor is dissipating and life is starting to go back to normal.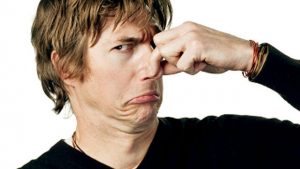 Perhaps you are wondering why I would use this forum to tell you all about this rather disgusting yet not unusual event.  It actually serves to make a couple of important points that all of us as Christ-followers would be wise to remember.
First, smell is a very powerful sense!  It is really amazing how pervasive an odor can be.  Not just offensive odors but all odors.  My mouth waters at the thought of how my mom's baked bread smelled as she pulled it out of the oven.  It was an odor that I was happy to have linger for a couple of days after the bread had been completed.  People who study such things tell us that our sense of smell is perhaps the most sensitive sense we have.  All I know is that when we walked into the Church building this morning, many steps away from what turned out to be the source, the smell was noticeable, offensive and definitely needing attention.
There is another point though that all of us need to remember.  In the Bible, our lives are sometimes described in terms of how they smell.  For example, 2 Corinthians 2:15 says, "For we are to God the pleasing aroma of Christ among those who are being saved and those who are perishing." (NIV)  The Apostle Paul uses this powerful sensory device as a metaphor for how Christ's message is effectively communicated through us, His Body.  We "smell" of Christ!  That is such a powerful and bizarre way of thinking about life as a follower of Jesus.  Our lives offer the first impressions that those outside of Christ have about Him and everything His Kingdom is about.  That's a huge responsibility and one that should cause us all to take a step back and perhaps do a little check to see what we "smell" like!

When we do step back and examine how our life may be perceived by those outside of Christ, the possibility exists that what we "smell" isn't very pleasant.  I have been a "smelly Christian" at times and I do not mean fragrant.  I mean stinky and disgusting and in fact, repellent to some who were turned away from Christ because of it.  That sobering reality bothers me.  I don't want to turn anyone away from Jesus, just the opposite!  But if we hope to have a positive influence on those outside of Christ we have to take seriously this issue and candidly make whatever changes we need to to change the offensive smell into a fragrant one.  One tool I have learned to use to check "how I smell" is to enlist the help of another who is close to me to "smell" me.  I give them permission to say to me if needed that "You stink"!  We certainly don't like thinking that we are offensive to others but sometimes we just can't see (smell) it.  Do you have someone in your life who you would trust to give you a "sniff test"?
Thankfully, the rodent is gone!  The room doesn't smell anymore.  In the same way, a correction in our course, if we find ourselves not smelling very good, can produce similar results.  The way to correcting it is to be reminded of God's grace in our lives and seek to live in humble gratitude for His redeeming us.  It also comes from embracing the role He has obviously created for all Christ-followers:  influencing convincingly those outside of Christ of the beauty that living "in Christ" creates and to consider the source of that beauty, Christ, our King as well!