I have always been a little bit stubborn.  Ok, maybe more than a little bit.  One thing I have noticed that really seems to bring out my stubbornness relates to accepting as a foregone conclusion some new fad or trend that "everybody" seems to have decided is the only way to be or listening to the dire predictions I often here about things that are very dear to me and being told "you might as well just accept it because that's the way it is".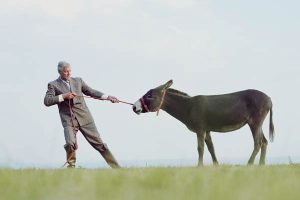 When I was younger, I found myself eager to try the "new and improved" thing.  I did my best to stay up with what was going on.  I often noticed that the new thing that promised to solve certain problems and be a better resource than what I was using at the time didn't live up to the promise.  One particular example that I think illustrates this is from the world of recorded music.  In the 80's we were introduced to another new format to listen to recorded music:  the CD or compact disc.  It would soon replace the other popular formats like LPs, 8 track tapes, and cassette tapes.  It would require, of course, investing in a new device to play the CD and because they were new, they were pricey.  I remember well my first CD player as well as the first few CDs I purchased.  This new format, which promised to be a radical improvement over the formats of the past not only was expensive to purchase but the CDs ended up costing about double the normal price of cassette or LP.  When I put that first CD in to play I did notice that the sound was very clear and there were some features that were convenient.  But in the end, I didn't think it lived up to all the hype.  And here's the reason why:  for me, the issue wasn't how durable it was or convenient.  I listen to music to hear the music and what was described as a huge improvement didn't impress me and in fact years later I abandoned my CDs, bought a nice turntable and began to listen to music via LPs again.  I notice the sound on the LP, though subtle, was different and reflected perhaps the studio or some other variable that I found more desirable than the cookie cutter sound that the CDs give.  Apparently, I wasn't the only one who figured this out as vintage LPs now sell like hotcakes!
This is but one of many issues I could have used to explain what I mean.  The Church has not been immune from these sort of promised better outcomes and sadly, many Churches have made the tragic mistake to abandon what was good for something "better".  I have to get in the line of eager ministers who heard the hype and bought the promised improvement.  I have to admit that there were times when I actually hurt the Church by insisting on the improvement because I see those opposed to it as afraid of change or just too stubborn.
Now, with the benefit of years of hindsight, I think I do a better job analyzing what is important and what isn't.  My strategy today is to hopefully find the balance between the "stubborn" voices within the Body of Christ.  There are stubborn voices who, in fact, will not try anything new and consider any idea of the last 50 years heretical!  There are other stubborn voices who want to discount the beauty of the Church over the past centuries in favor of something "better".  Do you find yourself in either of these "stubborn" positions?
What if what is missing from Congregations that might be struggling and trying to navigate the voices within it as well as those outside is something much simpler?  What if what is missing is a clear understanding of what the Church is and a clear voice to articulate it?  What if the methods, new or old, are irrelevant until the fundamental question of why the Church exists is settled?  What might happen if we could somehow recover the message so powerful and transforming that people of the 1st Century would risk all to be a part of it!  Now that would be something I would want to be "stubborn" about!