The title for this blog post is a bit weird and maybe needs a bit of explanation.  I heard this phrase in an episode of the TV show Fringe.  One of the futuristic people called "Observers" were speaking about how the "normal" humans would see situations and not only not have a clue to what the situation meant, but to also lack an even more basic level of knowledge required to make good sense of anything.  "You don't even know what you don't know!"
I have thought about that weirdly phrased sentence many times since first hearing it.  I find myself wanting to simplify different aspects of life and often find myself facing factors or variables that don't conveniently fit into my simple system.  Seeking additional information often leads me to discover that not only had my simple explanation of a situation been incomplete, it had been basically clueless!  "I didn't know what I didn't know!"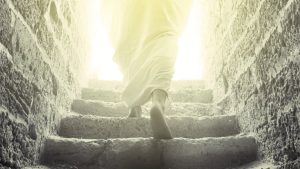 As I was preparing for the celebration of Easter last week, I was spending some time reading different perspectives of people to hear a variety of views related to resurrection.  I found a very interesting article which initially I thought was going to be a secular attack on the resurrection and Christians.  As I made my way through the article, the author, not identifying themselves as a Christian themselves, began to relate how the resurrection of Jesus was the catalyst for a societal change in the understanding of what the author called "personhood".  He explained from an historical context how people like the Apostle Paul, in response to the reality of the resurrection, began to see humanity in a way that clearly was different not only than any other system within the first century, but within any time within recorded human history at all!
The article I am referring to states:  "The advent of Christianity overturned this old order of the ages, which had reigned more or less unchallenged since the dawn of civilization until the first Easter morning in Jerusalem some 2,000 years ago. The proclamation of the first Christians — that God had become man — obliterated the conception of personhood that predominated in the ancient world. If Jesus is a "persona," as the apostolic and patristic fathers of the Church maintained, and he has died and been raised as a representative of the entire race, then we are all more than society and the state would make of us. A gap opens up between our identity and our social obligations. The individual sets foot on the stage of human history for the first time. "There is neither Jew nor Greek, there is neither slave nor free, there is neither male nor female; for you are all one in Christ Jesus."  The Christian Invention of the Human Person, Cameron Hilditch
As I read further I saw example after example of how "I didn't know what I didn't know!"  This brings me finally to the point of this blog post:  Is it possible that our concept and understanding of what the resurrection of Jesus is and means is woefully too small and inadequate?
For me, I am discovering more evidence where the fingerprints of Jesus' resurrection can clearly be seen, if we are looking for them.  To see Jesus' resurrection solely in terms of what it secured regarding our eternity is really very short-sighted.  As the depth of Jesus' resurrection soaks into my mind and heart, I am discovering clues, applications and opportunities almost daily.  It is awesome to wake up every morning with a renewed call to live out the realities of resurrection and continue the 2000 year old tradition in the context of 2021.
So, if you are like me and still willing and eager to experience the transformative power of Jesus' resurrection let me encourage you in a couple of areas.  First, while you may put away the decorations associated with Easter, please don't move on in the magnitude of it.  Keep on celebrating!  Keep on reading!  Keep on searching for deeper meaning!  Second, please make sure to join us for the next 7 weeks in our Worship Assemblies as we, together look at John's Gospel to discover clues and applications for resurrection's influence today.
Let's keep the celebration going!  Not with special clothing or food but with a mind to better know the power of the resurrection and being a part of it's continued transformation here and now.