It's December 23, Christmas Eve Eve if you will.  It's a busy time and one that finds me eager finish tasks so that I can enjoy a few days of relaxation and celebration of the King of Kings.  This blog post is on my list of things to-do and inspiration for a post has been slow in coming.
As I have been talking with Church folk and listening to them tell me about their plans for the holiday, I have noticed a bit of hesitation as they tell me about this family gathering or that.  Apparently, being around our extended families like we often are around Christmas can be a little bit of a challenge.  Some of the people we see are relatives that we rarely see.  Some are folks that we find that we have little in common.  We might even wonder if we really are related to them, given the lack of things in common we have with them.  It can be a tense time.  Expectations are high and the pressure is on.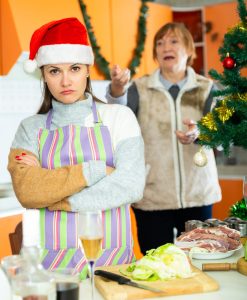 One of the common questions I get asked especially around the holidays is how to communicate with a family member who is not a Christian or has strayed from the faith.  The thinking is that since I don't see this family member except for Christmas or Thanksgiving, I probably should figure out how to steer the conversation down a spiritual path in hopes of successfully either converting or reforming that family member.
So, what should we say or do if we find ourselves in this type of situation?  On one hand, we might feel we should proceed because we may not have another opportunity.  In fact, the Bible reminds us that we are not even promised more than today.  Perhaps we should just say what we want to say, hope for the best and if it doesn't go well, at least we tried.
On the other hand, perhaps we should not use the holidays as the time for trying to reform a wayward Christian or someone who is not a Christian at all.  The stress of family, especially if we are crowded into small spaces can be very unnerving and intimidating.  Our assessments of our relative's spiritual condition might or might not be accurate.  Since we don't live close to them or interact with them regularly, how do we know?
It's a tricky situation and one I would encourage you to pray about before you proceed.  Perhaps God will open a door for you to have a conversation with a loved one that could impact their spiritual standing with God.  Regardless, let me suggest something that might be a positive approach to dealing with the folks we have been thinking.
Many pre-Christian people and people who have stepped away from their faith have something in common:  they both see hundreds of examples of people who say they are Christ-followers acting in really nasty ways.  The prevalence, particularly in the American Church, to emphasize "getting saved" while saying and doing little to teach and lead people in the demands of being a true follower of Christ is bearing it's sad and tasteless fruit.  Many today have concluded they don't need to be a Christ-follower because they don't see a practical difference between those in Christ and those outside of Him.
Another strategy to think about as well:  when sharing with folks, talk about how you were before you chose Christ and how God is growing you in your faith.  Not that you are sinless and have everything in your spiritual walk figured out.  Start with your own failures, struggles to make sense of life, and how God is now working in you by His Holy Spirit.  These are subjects that you should be well versed in and will ring true.  Perhaps you will plant a seed that will grow into faith as it is pondered.  We just don't know.
And something else…when you gather for the Christmas meal, wait for others to go ahead of you, be kind to the little children and those barely able to care for themselves, think about how Jesus might act if He showed up at your celebration.  Smile, laugh, enjoy the food and the company around you, yes, even the annoying ones.  Afterall, it's still His party!  Merry Christmas!