This past Sunday afternoon found me back in the Sanctuary but only this time I was in the audience.  The occasion was the celebration of two young men receiving their Eagle Scout.  If you aren't familiar with Scouts, this is the highest rank in the program and only about 8% of those starting Scouts reach this level.  On a side note, we will see another young man receive his Eagle later this month.  What an incredible achievement that is!
A part of this Court of Honor is inviting other Eagle Scouts to stand and join in.  It essentially serves as a reminder of what the whole objective of Scouts is:  the development of character.  As one who received the rank of Eagle many years ago, it was illuminating.  Memories came flooding back to a February day in 1974 when I proudly stood with my parents to receive this honor and feel the acknowledgement for lots of hard work.  It was a really wonderful day…except for what spoiled it.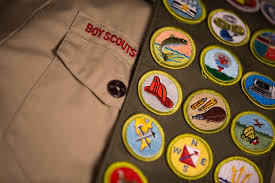 I suspect no one knew about how the day was spoiled for me and I certainly wasn't going to draw attention to it.  What should have been a really high moment in my young life really got spoiled.  What's ironic about it is that if I had put into practice the values I was learning and if the values I was theoretically embracing through Scouts were having their proper effect, the day wouldn't have been spoiled.
Here's what happened.  It all started about a month before I was to receive my Eagle.  I was sitting in my 8th grade science class at school, and I decided to act out and try to be clever.  As the teacher had his back turned to me, I broke off the tip of my #2 pencil and threw it at him, while a few of my classmates egged me on.  I did successfully hit him with the lead, but it bounced off of him and landed on a metal chair, making a pinging sound.  He proceeded to pick up the lead and began walking through the aisles of students seemingly looking for something.  When he got to my desk, he picked up my pencil and skillfully match the tip of the pencil to my broken-tipped pencil.  I thought to myself how stupid I was but then things only got worse.
At this point, he asked me, the almost Eagle Scout, if I had thrown the pencil lead at him.  I lied and acted like I didn't know what he was talking about, even though the evidence was clearly in his hands.  His response was to make me take my desk out into the hall and stay there until I was prepared to tell him the truth.  Initially, this didn't seem like too big of a deal until when class ended.  He asked me again if I had thrown the tip at him and I doubled down on my lie.  His response was to tell me he wasn't going to permit me back into his class until I brought one of my parents to talk with him about the situation.
Good grief!  I thought about it overnight and the next day in science class I assumed my position out in the hall.  He asked me if I had spoken to my parents and, of course, I lied again and said I had.  I told him they would be coming one afternoon after school.  I was thinking that maybe if he thought they were coming, he would let me back in the class and eventually forget the whole thing.  Not a very well thought out plan but I was getting desperate.  This back and forth went on for about 3 weeks until just a couple of days before my Eagle Scout Court of Honor.  My science teacher knew 2 things:  I was supposed to be this standout boy scout and I was lying.
Eventually he called my parents and requested a meeting.  He told them the whole story and of course they were disappointed at having had to be called by a teacher as well as my behavior and subsequent lying.  Frankly, the whole thing was embarrassing and a part of me didn't want to go ahead with receiving the award.  When I look back on those pictures, I can't help but see the hypocrisy within me.  It was a hard lesson.  A lesson I still reflect upon nearly 50 years later.
Today, I strive to make sure the Tony that only God and I can see matches the Tony that you see as well.  As you can see from this blog post, I haven't always been successful.  What I have learned and continue to learn is that being honest, even when it is being honest about failure, is better than keeping up appearances.