I remember several years ago when I was reading the local newspaper that a company was advertising for people to go into restaurants "undercover" to eat a meal and then share their honest feedback.  I thought this sounded like some kind of a joke but the idea of people paying for my meal and for my opinion was too tempting to not at least check out.  Sure enough, it was legit!  There were restaurants who subscribed to their services and the desperately were needing people to go and eat!  I figured that once a week I could get my meal paid for and make a buck or two in addition and life would be good.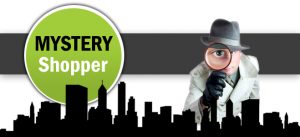 So, I signed up and started.  It was great!  Who wouldn't like free food?!?  I got to eat at different kinds of restaurants like Burger King, McDonalds's and Taco Bell.  I also got to eat at places like Olive Garden, Red Lobster and Pizza Hut.  Restaurants were willing to pay some guy like me for me opinion.  Actually, I thought the whole idea was kind of dumb but whatever people want to do to spend money, I don't really care.  I thought it was dumb because I thought if they really wanted to know what their restaurant was like all they would have to do is inspect it, eat in it, etc.  What did I possess that they didn't already have?  And then it hit me.  They were probably suffering with a problem that all people suffer with to varying degrees when they are used to going someplace or doing something repeatedly.  They had become blind to seeing reality in the same way someone with no history would be able to see it.  So they hire people with "fresh eyes" to regain what they can't see any longer.
I got to thinking about this with respect to the Church.  Before you ask, we don't pay people to come to Church "undercover"!  Fortunately, we see a consistent number of guests who I am able to reach out to after their visit to welcome them again and listen attentively to their impressions.  Did they feel welcomed?  Did they have questions?  Were there opportunities within the Church that might be of particular interest to them?
I am happy to report to you that the feedback I get from those guests is usually very positive.  I take that with a bit of a grain of salt though because I suspect that most people might not tell me something negative unless it had been really bad.  So when I talk to them, I ask them questions that encourage them to give me feedback that is more specific.  Still, this congregation gets very high marks!
In all fairness, I do need to tell you when I was visiting with a guest who had a very different experience.  When I asked them to give me more details they shared with me that when they visited, they felt sort of ignored.  They noticed conversations going on all around them but they were not included.  They did not come back.  Ouch!  That feedback is hard to hear but necessary if we want to be a friendly, welcoming congregation.  Sometimes we miss the mark!  Sometimes we become blind to the normal patterns we have developed when we are in the Sanctuary.  The good news is that it can be corrected!  What if we each made it a point to be on the lookout for folks who might be guests when we gather?  As we notice them, do we see people engaging with them or are they being left out?  I don't think everyone in the crowd needs to make contact, that might be a bit overwhelming!  But if we notice someone who isn't being included, could you move closer and engage them in a bit of conversation?  Could you welcome them?  Could you tell them your name and listen for theirs?  Could you make sure that they have the things they need, like a bulletin, outline, etc.?  Could you "notice" them?
Your efforts might be the difference between them taking the next step toward Jesus and being frustrated and wondering if the effort was worth it.  Let's come this Sunday, wide-eyed and ready to receive the guests the Lord has sent us!