Camille and I have taken a bit of a hiatus from our normal TV watching pattern of British crime dramas to something radically different.  We have been watching some shows that feature what are called "Tiny Houses".  Apparently this is a new phenomenon that is gaining in popularity as people are evaluating their priorities and making some rather counter-cultural choices.  If you haven't seen any of these shows or are unfamiliar with what I am referring to, just Google it or scan your TV directory of choice.  I am sure you will find it.
What is interesting to me about the shows isn't the clever ways that people have to learn to store the belongings or the creative ways the home's designers use literally every square inch in what is usually a 400 square foot space.  To put that into perspective, many of you have been in the parsonage where Camille and I live and it is about 1400 square feet.  Imagine living in a space roughly 30% of that amount of space.  What I do find very fascinating is watching the couples or families who are about to embark on this "tiny" journey walk through the various phases of accepting "tiny living".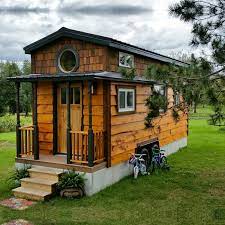 Here's what I have noticed.  First, they start out thinking that living in a tiny house would be novel, less expensive, environmentally sensitive, and liberating.  As they move from the theoretical to the prospect of it actually becoming a reality, a very clear picture of tension-resolving to acceptance immerges.  Several times during these episodes the folks contemplating this shift to tiny seem as if they are ready to give up the idea and go back to whatever they were used to.  Since the shows usually only last about an hour and because it seems the focus of the show is showing all the clever trappings incorporated into the home, we don't always get to find out what it was that kept them moving forward despite the obvious anxiety they were experiencing.
In the end, they all seem to make it work.  Some modify the home to accommodate more of their traditional roots but all seem to successfully make the radical shift to tiny living.
Now those of you who know me know that while I am writing a blog about Tiny Houses, this blog isn't really about Tiny Houses!  The Apostle Paul challenged believers in Rome and us today:
"Do not conform to the pattern of this world, but be transformed by the renewing of your mind. Then you will be able to test and approve what God's will is—his good, pleasing and perfect will."  Romans 12:2
Paul instructs the believers in this way because given all that God had done for them through Christ, this would be the appropriate way to respond to this incredible outpouring of grace.
Living in a Tiny House would be an example of not conforming to the pattern of the world;  at least not the pattern of the world in the USA!  But again, my point isn't what kind of house you live in but the instruction given to see non-conformity to the pattern of the world as the spot to be when responded to God's grace.  Paul further points to the catalyst that will get the ball rolling:  the renewing of our minds.  That is what is going on with all these Tiny House people.  They are rethinking or renewing their minds with respect to housing, ecology, finances or perhaps other factors.  The conclusions they are drawing in the end are that non-conformity is the right way to move forward.
One problem and frustration with many Christ-followers lives as such, is their inability to break away from the patterns of the world.  Some of the patterns of the world relate to sinful behavior but many have to do with the acceptance of certain value systems within the culture that frankly can't coexist with those who seek to follow Jesus.  Love, which is so much of what Romans 12 explores from the stand point of what it looks like when being experienced "sincerely" is a radical departure from the "I will love you if you love me attitude in our modern world".  Just like coming to accept the limitations of living in a Tiny House will require reflection, education and choice, so it is with Christ.
I don't know if you would seriously consider living in a Tiny House.  The more important questions are:
Are you and I trapped into secular, non-biblical worldviews?
If I am currently living an existence that is more culturally than biblically centered, what am I prepared to do to change it?
When considering to break away from conforming to the patterns of this world and pursuing a biblical worldview with all that it brings, how will I cope when it gets difficult.
Part of the beauty of the Church, the Body of Christ, is assisting all of us in achieving these counter-cultural objectives.  We need help and often the best helpers are those who have travelled the road successfully before us.  I look forward to seeing you Sunday to continue the journey with you!