I  am old enough to remember when cigarettes were advertised on TV.  I know, that seems like it must have been from another planet.  In many ways it was!  At some point, the transition in our culture away from tobacco produced TV ads that were created to demonstrate various aspects of the habit of smoking.  One that was particularly powerful to me featured several little clips of a boy, probably about 3 or 4, imitating whatever he noticed his dad doing.  If the dad picked up a stone and made it skip across a pond, the little boy followed.  When the dad was hosing off the car after washing, the little boy pulled out is squirt gun to do the same.  At the end of the ad, the dad and son are relaxing next to a tree and the dad pulls out a pack of cigarettes, lights it up and sets the pack of cigarettes on the ground between himself and his boy.  Curiously, I found the ad I am referring to and you can see the 1967 ad at:
Like Father Like Son – Anti Smoking PSA 1967 – YouTube
Times sure have changed! Or have they?  Certainly the attitudes about smoking in our culture have changed but what about fathers and their children?  Do children still imitate their dads?  I think the answer is a resounding "yes"!  I didn't realize until many years after having supposedly "grown up" that I was pretty much addicted to trying to get my father's approval.  Looking back, now that he has been gone for nearly 2 years, I probably still have as many questions as answers to my complicated relationship with my dad.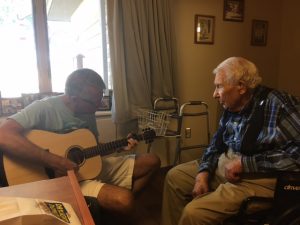 First, I think I finally came to the conclusion that our relationship was complicated!  Perhaps to say that and certainly to accept it was difficult.  There were times that I longed to be around him and many of his quirky and folksy ways were perfectly fine.  At other times I felt like being around my dad was like hearing nails on a chalkboard and anything he said was annoying.  For the longest time, I just attributed it to him.  I'm the normal one and he just isn't "with it" or understand life now as it is.
It was also complicated because I found myself eager to report to him some success or event that I presumed would make him proud or bring a smile to his face.  Sometimes they did and others not.  I often remember feeling confused and even rejected because of these encounters.  I would leave and get over it only to come back again and experience the same things.  Eventually, I decided to just stay away.
39 years ago I experienced my first Father's Day as the honoree.  I have always been extremely proud of my children and they have been a source of great joy.  When the children started arriving my ability to stay from my dad became more difficult.  It was the strangest thing.  My children thought their grandpa, my dad, was about the greatest thing in the world!  They couldn't wait to see him and as I watched them interact I often wondered why that couldn't be me.  My children taught me a lot about my dad.  They were able to see his attributes and yet also see his flaws.  They just loved him!
I spent the last 7 years of my dad's life as his chauffeur, advocate with doctors, accountant and go-fer.  I am grateful for those years even though they were challenging and filled with many emotions.  I cherish those moments because I finally was able to really get to know and understand my dad.  Before, I would rarely ever confide in him my true feelings.  I did my best to be nice and do what I felt was the responsible thing to be of help but something was missing.  Slowly, the situation changed and something really improbable happened:  we became friends.
Since his death in 2019 I have been reflecting upon all this as well as the relationship with my own children and grandchildren.  I am happy to report that my children relate to me much better that I did with my dad.  They are gracious with me and only occasionally do I see them roll their eyes when I do something tragically "unhip"!  I think about the stuff that they must be dealing with as a result of living near me for about 18 years.  Did they always really sense how much I loved them?  Did I celebrate their achievements in a way that was what they needed?  Do they know that I know that relationships are complicated?
This Sunday as our culture celebrates fathers I will be remembering a very good one and thanking God for giving me what I needed.  I will also be praying that he helps me to be what my children need as they navigate the next phases of their lives.  Happy Father's Day!