When I was a teenager by parents forced my brother and I to join with them in what I thought was the most annoying ritual imaginable.  Every Sunday afternoon, dad would inform us that it was time for our weekly "drive".  Part of the reason it was so annoying centered around my own desire to spend Sunday afternoons the way I wanted.  This usually meant playing sports with the neighborhood kids, listening to music, watching tv, etc.  Why can't I just be left alone?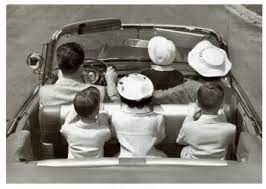 It was also annoying because of the nature of the drive itself.  First, we would get in the car and my dad would drive ridiculously slow.  It was so embarrassing to be seen by my peers riding with my parents on the weekly "drive" at a speed that was 1/2 the normal speed limit.  It was also about as boring a way to spend time as any I knew to that point.  I hadn't watch paint dry yet but these weekly drives were agonizing.  We would usually drive around for about an hour.  I was grateful when our route took us out of town which meant avoiding embarrassment.  To make matters worse, my dad rarely ever turned on the radio when driving on these excursions.  Often we would go along silently with only an occasional passing comment about some farm we passed by or an interesting herd of livestock.
As I got older, I was grateful for Sunday afternoons when I worked at the local grocery store.  At least I could avoid those horrible drives!
It's funny how your perspective changes as you get older.  Today, I thoroughly enjoy driving around and just looking at stuff.  I enjoy driving slowly, quietly, and taking notice of what I might have not seen in the course of my regular schedule.
Sunday drives are not the only things that I once despised but now am attracted.  I used to be easily bored and thrived on being spontaneous.  Today, I find myself being almost addicted to the routines in my life.  I used to want to keep current with every detail in the worlds of politics, sports, news, etc. but today I am much more interested in a book from 100 years ago.
I am certainly not advocating everyone will see life the way I currently do.  In fact, that is really the point I am hoping to make.  One of life's great paradoxes centers around people's ability or even desire to change.  On one hand, many would argue that people really don't or can't change.  On the other hand, a list of how each of us have changed would be lengthy.  So which is it?  That's what makes it a paradox.  Actually both are happening at the same time.
Recently I found myself looking at a situation that a much younger friend was looking at it in the opposite way.  As I heard him express his opinion and the rationale behind it, my first reaction was negative.  The situation really didn't have any direct bearing on me and it required nothing from me.  I just didn't see it in the same way as my friend.
For some reason, I couldn't get this reaction out of my mind and it finally hit me that my reason for thinking negatively was more a selfish reaction based upon what I like and want rather than what would benefit the many.  What made all the difference in the way this story ends centers on the fact that the difference of opinion was with someone who I consider a friend.  Something about that connection got me to change from defending by own view to rethinking the whole thing and coming back with a totally different conclusion.
I wonder if when we face situations within our congregation that could potentially be divisive we are aware of what really is going on inside of us.  Are we aware of how our personal preferences are crying out to be fulfilled for more reasons than we care to admit?  Do we take the time consider that our preference at this point in time might be radically different than it was at an earlier time in our life?
And now let me share with you what happened since all this took place in my head!  Today, as I write this blog I am happier about the situation and the final decision reached even though it wasn't my "gut reaction".  I really am cheering for success in something I didn't think was best.  I changed my mind and it feels amazing!  I am getting behind someone else's idea and am happy to be a cheerleader.  I have to confess that this feeling of joy I am experiencing is something I could get used to!  And I know it will happen again when in the fury of potential conflict, I take a step back, think, pray, and let God's Spirit drive my reaction, not my personal preference.  I know you must have similar stories and would love to hear about them!