Yes, you read that title to this blog post correctly!  So many books and articles today focus on "How to find Success or to Succeed in Life".  I thought I might stir it up a bit and write about a concept that is getting lots of traction within our culture that actually won't bring success but actually is a recipe for failure.
The concept that seems like it is being embraced by more and more in the culture is the idea that to find success you need to find "YOUR truth".  I have heard this spoken of in cultural settings like on television and in some books that are popular.  I have even heard it spill into the Church.  I decided to give it my attention as this concept seems to be driving many social changes within the culture in all sort of areas from determining what one's gender is, to how Covid should be responded to, to helping one create a type of roadmap that they will build their life upon in order to end up at the end of life having accomplished their goal:  fulfillment.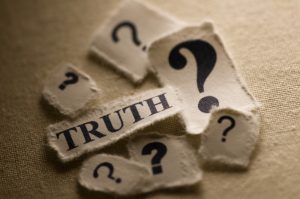 Having grown up in the 60's and 70's, I remember hearing about something sort of close to this way of thinking when I heard it said of someone that they are "trying to find themselves".  I took this to mean that someone was testing many of the cultural norms and assumptions because they left a person feeling restricted.  The thinking was that if a person would just throw off all the shackles of expectation and social conditioning, the real "us" would immerge.  While the terminology has changed, the desire to challenge the norms of life isn't new.
In response to all of this I wanted to say a word to fellow Christ-followers.  This idea and this philosophy isn't new and it isn't from God.  I suppose the oldest example we have of it in the Bible is in the Garden of Eden when Adam and Eve chose rebellion over their true vocation:  rulers/caretakers of God's good earth.  We read in Proverbs 14:12 – "There is a way that appears to be right, but in the end it leads to death." (NIV)  The idea expressed here in Proverbs is reiterated in other passages from God's Word.  In fact, Jeremiah 17:9 states:  "The heart is deceitful above all things and beyond cure.  Who can understand it?" (NIV)  Who indeed?  Truthfully, the last person I want to consult about "Truth" is me!
As Christ-followers, we have come to accept that Truth is embodied in the person of Jesus, the Christ.  He is the Lord of my life as well as the entire cosmos.  He is the Son of God and the Son of Man.  For us, Truth is settled, or at least it should be.  We struggle when we don't "live" the Truth we have come to profess.  Read that last sentence again!  Christ-followers live in a culture that either rejects Jesus, the Christ as the embodiment of Truth or gives Him only lip service.  That being said, we shouldn't find resistance to our lives of seeking to live "His" truth in a confused world as anything other than what we should expect.  Salt and Light by definition are elements which change the status quo of tastelessness and darkness.  Its only when we hide the Light and lose our Saltiness that we should be concerned.
I need to probably confess a struggle I have in dealing with all this:  I get tired, frustrated and sometimes lose concentration.  Living in a broken world with a keen sense of the brokenness is challenging.  Living in a broken world and seeking to find "Jesus honoring" methods to breech the gap of brokenness is also challenging.  Sometimes I feel like throwing up my hands in disgust and giving up!  Sometimes I feel like going on a tirade against the "issue of day" that is preaching this ancient, secular story!  Neither of those 2 responses, however, meet the standard of "Jesus honoring".  And so, I pray, I seek God's Spirit for wisdom and direction, I check and double check to see where my heart might be needing correction, and I look for openings within the Body of Christ and outside of it to reassure and comfort my fellow Christ-followers as well as pique the curiosity of those who are yet to know Him or know Him only in "name only".
We live in challenging times but the truth is, the Body of Christ has lived in challenging times since the day Jesus' ascended back to the Father.  The times and challenges change, to be true, but the Truth doesn't and hasn't.  Let me with all humility ask you, when as a Christ-followers, you feel restlessness or concern about the fulfillment of your life, to look closer at Jesus.  Look closely at the Gospels which are telling the beautiful story of how God became King with the enthronement and inauguration of the Kingdom of God in Jesus, the Christ!  I can testify that this type of effort has sharpened my resolve and clarified what I believe my life is about.  I am confident it will do the same for you!