If you were to take a poll and ask Christ-followers this question:  "What are some of the most effective ways you have discovered to advance the Kingdom of God?"  I suspect you will get a wide variety of responses.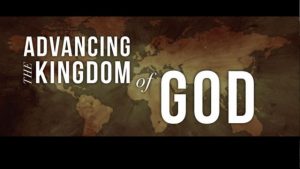 First, there will be some who look at you like you are speaking a foreign language.  Their confusion is born from the phrase "advance the Kingdom of God".  This concept is probably not one they can see as what Christ-followers are supposed to be concerned.  They might think, "Well, it's God's Kingdom, He will advance it anyway He wants".  They mean God will do it or not do it, however He sees fit and that's the end of that!
Next, there will be some who immediately hear that phrase, "advance the Kingdom of God" and think of great stadium events like Billy Graham style crusades.  Or on a smaller scale, they will think of a Church revival where great emphasis is placed upon "getting people saved".
Next, there will be some who focus upon "Kingdom of God" and think of all the ways that the world we currently live isn't measuring up.  They would point to things like injustice, poverty, debt and many other issues that continue to plague nations around the world, even our own and set out to "do something about it".
It would be fun (I have a weird sense of fun) to sit down with these and many other perspectives and listen to them debate their ideas.  I would imagine the best result that might come from such a gathering is to "agree to disagree"!  Even that might be expecting too much!
Perhaps, the question of advancing the Kingdom of God isn't correctly answered by choosing one or the other of these last two perspectives but rather by seeing both as two sides of the same coin.  How can we be true to Scripture when we emphasize one but not the other?  Jesus prayed, "Thy Kingdom come, Thy will be done on earth as it is in heaven." (emphasis mine)  As He announced that He was Messiah He did so by quoting Old Testament prophets who spoke of how Messiah would bring social as well as spiritual renewal.  His final words commission His followers to go and make disciples everywhere.  It seems pretty clear, His Kingdom has applications in not one or the other arena but both.
Which brings me back to what I was hoping to communicate in this blog post.  How do we do it?  How can I do it today?  How can I do it in my family, at work, socially, etc.  How?  As we continue to look at 1 Peter in our Sunday morning Worship Services, we are discovering how Hope of the Resurrection is a powerful virtue.  This Sunday, we will discover one of the most powerful ways to advance the Kingdom of God that everyone one of us can do.  Sorry, I am not going to tell you what it is here.  You will need to tune in Sunday or perhaps after Sunday for the recording.  In the meantime, I will give you a hint:  read 1 Peter 2:11-12 and then read it 10 more times!  See you Sunday!