Welcome to my blog!  I am making plans to add to this blog on a weekly basis and am happy to be able to share with you via this forum.  You are probably wondering why this post has a tombstone on it and why it's title is what it is!  There is a method to my madness and it centers on the word that is on the tombstone.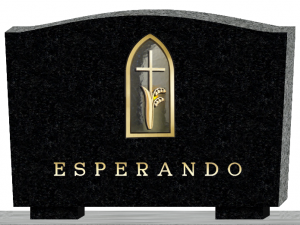 As you probably know by now, I love words!  I like to think about how we got them, what they mean and how those meanings sometimes change over time.  While trying to learn Spanish, I discovered what I thought was very interesting and spiritually insightful.  The verb, Esperar, can mean either Hoping or Waiting.  On the tombstone the word "Esperando" can either mean "Hoping" or "Waiting"!  As I thought about that, I realized that you can't hope without waiting and you can't wait without hope!
Followers of Jesus learn that one of the virtues that God desires for His followers to embody is Hope!  The Apostle Paul tells us in 1 Corinthians 13:13, "And now these three remain: faith, hope and love. But the greatest of these is love." (NIV) In my opinion, Hope is the one virtue that we tend to give the least attention to but that is not the way the early followers of Jesus thought.  Hope was the virtue that enabled bold, principled living for Jesus that sparked the Church to spread like wildfire!  And, it can do that within the Church today. 
Hoping/Waiting is a mindset of anticipation based upon fulfilled promises and a belief that promises made now will be fulfilled.  Hopeful people can and will change the world!  For the next 7 weeks in my Sunday morning sermons, I will be exploring how the Resurrection of Jesus enables Hope to grow and eventually ooze out of fully-formed followers of Jesus.  I hope you will join me on this journey of Hope!