If you are a regular reader of this blog you will know that much of what I have written about has to do with vision or eyes.  I guess I think that what I am supposed to be doing with this blog is getting us to thinking about the way things seem to us and how God intends for us to see things.  I'm not sure where I got this idea about what this blog is supposed to be about but it has served me well so far and as they say, "if it ain't broke, don't fix it!"
Many of you have been very kind in your comments and reactions to these blog posts and that makes me feel good.  I'm glad you have taken the time to read my ramblings.  If you are like me, you are bombarded with blogs, websites, memes, social media, etc. all vying for your attention.  It really can be overwhelming!  Besides, who am I to think I have anything to say that might be worthy of your attention every Thursday?!?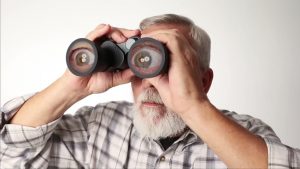 Actually, though I really meant that to be a rhetorical question, I think I will take the time to answer it.  What really do I have to say that should capture your attention in the midst of all the noise of life?  Fresh Eyes!  I have fresh eyes.  I have the good fortune of having eyes that currently are seeing many new things.  I see things that most people miss.  It's not that my eyesight is better than anyone else's.  It's just that what you and I each see, I see differently because it hasn't become normal or routine to me.  Everything is new!  I spot the imperfections in the carpet, the bizarre way that people in Fulton, MS parallel park, the unique beauty of the Magnolia blossoms, the way the local television newscasts refer as often to faith as they do any other dimension of life and the list goes on and on.
So today I thought I would intentionally pray for you.  I am praying that God would grant you fresh eyes.  Fresh eyes see the beauty of their spouse instead of an annoying habit.  Fresh eyes choose to not miss the fragile moments in life that we assume will always happen because they always have.  Fresh eyes will see children as we all once were:  curious, eager, uncertain and needing to be loved unconditionally.  Fresh eyes remember the puppy that once was our now reliable pet and friend.  Fresh eyes see what could become of an old piece of furniture that others would just as soon have thrown away.  But most of all, fresh eyes enable us to see God as the glorious Friend and Partner, the Good, Good Father He truly is!
It reminds me of a song I learned in Church many years ago:
Open my eyes, that I may see
Glimpses of truth thou hast for me;
Place in my hands the wonderful key
That shall unclasp and set me free
Silently now I wait for thee
Ready, my God, thy will to see
Open my eyes, illumine me, Spirit divine! 
by Clara H. Scott
Oh, that we could all have fresh eyes!  That's my prayer for you!