This week marks a date that I have had in the back of my mind for about 30 years.  It started on January 1, 1992 when I was with my dad celebrating his 70th birthday. He was telling us all about how he was now on "borrowed time".  This was an idea he had gotten from Psalm 90 where the psalmist talks about the length of one's life as 70 years or perhaps 80 with strength.  Eventually the discussion turned from celebrating his birthday to speculating if he would make it another 30 years and celebrate his 100th.  He really didn't think he would make it to 100 even though there were some of his own relatives, like his mother who lived well into their 90's.
Many times since that celebration I have wondered about his reaching that milestone. Of course, he got his definitive answer when he died on July 8, 2019, about 2 1/2 years short of 100.  Still, this week has been looming large in my mind as I think about my dad and as I wonder how close I will get to be 100.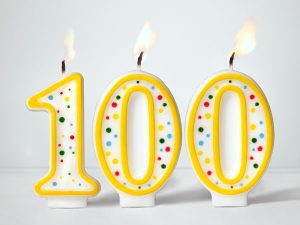 The harsh reality of living is that we all will die.  Nobody knows when that moment will come but come it will.  Sadly, many choose to focus on WHEN their life will end instead of focusing on the HOW to live their life.  There is no shortage of ideas about how one should spend their life.  Many strategies are very self-centered and seem focused on the objective of getting from life as much as possible.  This is not the strategy taught within God's Word.
With to coming of a new year I find my attention drawn to how God's great story of rescuing is going to end and particularly how I need to be paying attention for His return.  Waiting for Jesus to return is a subject that many love to speculate. While obviously curious as to when Jesus will return, I have no desire to join in that speculation but rather accept God's Word at face value when it tells us we won't know the WHEN of it.  The dimension where Jesus chose to focus and where He's also gives us detailed instruction is in the area of HOW to Wait for His return.  The main focus of His instruction:  Be Prepared!
Jesus shares a series of 5 parables in Matthew 24 & 25 that explore this dimension of preparedness, each with a little bit different emphasis and focus.  The discoveries found there are significant and valuable. I don't think it is an exaggeration to say they are life changing!  So as we move into January, I will be sharing what Jesus reveals about being prepared in my sermons. I hope you will start this new year with a fresh perspective and renewed focus on the King's business and making sure we are about it, living it and being rewarded because of it!