A few weeks ago, I wrote a blog post that talked about the yard at the parsonage and how it was an ongoing, challenging project.  Perhaps you might enjoy hearing that progress continues to be made in our project.  New grass has sprouted and even grown tall enough and dense enough to need to be mowed!  The rose bush we pruned and thought for a couple of weeks may have killed, is now showing the signs of renewed life.  Little volunteer dogwood trees, given to us by some kind church folk, are showing every sign of making it.  There is a long, long way to getting it where we hope it eventually will get, but its nice to step back and see that progress has been made.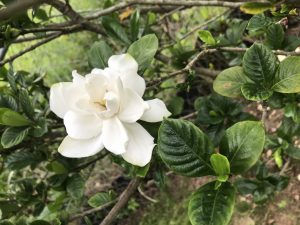 Another benefit of stepping back and looking around is the opportunity it provides to see things differently.  While all the effort we have made seems to be paying off.  There is another variable at play.  A few days ago, we went into the backyard to discover that the bush we seriously thought about removing, was about to burst forth with what, we weren't sure.  Sure enough, the next day we saw the first of now many beautiful and fragrant flowers.  Upon further review, we learned they are gardenias.  Now the bush is bursting with flowers and we couldn't imagine removing it.
This discovery has caused me to remember a couple of truths about life in this world.  First, someone else intentionally planted that bush.  My best guess is that it was Miss Clarice.  She certainly loved the flowers and plants.  I am sure we aren't the first to enjoy the beautiful, fragrant gardenias.  And so it is with life.  We are always building, standing, living in the shadows of those who have gone before us.  Perhaps we would be wise to think and even rethink before we presume our innovation or way is the best.  A keen awareness of the past is good to helping us avoid foolish mistakes that could hurt others and ourselves for years.  We are to fit in.  We are to find our place within the Church, the community, our families, neighborhoods, etc.  Fitting in doesn't mean caving in.  Fitting in means we realize that the world is bigger than we are and we all need each other.
This leads me to my second observation.  Sometimes we don't realize how valuable something might be because we have never been exposed to it.  I have never seen gardenias grow before.  Now, I can't imagine the yard without them!  Just prior to Christmas, I had the privilege of working with a group of pastors from different congregations in jail ministry.  In 2 days time, we tried to bring a message of hope to about 800 incarcerated men, women and even those in the juvenile facilities.  We were each asked to do a small bit and my job was to basically preach for about 5-8 minutes.  I shared this responsibility with the other pastors as we took turns going through the mods.  Most of the pastors were African American.  As I listened to them preach, my initial reaction was how different their style was from mine.  As I watched the inmates react to their preaching, I was struck by how well they were received by inmates of all races.  Their presentation was so different and yet so powerful!  When it was my turn, I felt a little nervous because I wasn't like them.  I brought what I felt God wanted me to say and again, the inmates reacted!  All the inmates!  By the time we had completed our task, all the pastors were encouraging each other and expressing to each other how what someone else had brought, though different, was powerful and valuable!  My suspicion is that the Holy Spirit was in our midst.  Breaking down walls.  Not jail walls but denominational and racial walls.  It was pretty amazing!
I hope to take that experience and let it be the basis for reaching out to other pastors in Fulton.  I know some will reject me.  I know some may be suspicious of me.  I know some of you may even think its a waste of time.  I believe God's Spirit is trying to lead the Body of Christ in the ways of Unity.  Jesus envisions a pure Bride, not brides!  Loving our brothers and sisters in Christ will require moving toward them, seeking to understand them and realizing that we can't be all God intends without them.  It's all about fitting in!