I think I have finally recuperated from the long driving trip we took a couple of weeks ago.  The grass in the yard is back to a manageable state, the desk has been cleared at work, and the minor aches of pains from prolonged driving and participating in activities that are not a part of my routine have subsided.  As I have been reflecting on the trip, my mind has been focusing on an experience in the beautiful Rocky Mountains with a couple of my kids and their kids.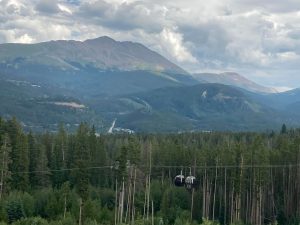 My oldest daughter and her family live about an hour and a half away from a ski resort that they frequently visit.  Part of our recent trip included a trip to this resort for site seeing.  My 2 Colorado grandsons are rather accomplished skiers and for the past few years, regular visits to ski, have been a part of their routine.  I was shocked when they told me that during some of harshest winter months, they would weekly make the ascent up the sometimes-treacherous roads to enjoy this time.  Truthfully, I was getting a bit nauseous as we traversed the mountain curves, steep climbs, and deep descents, and we were traveling in the summer when had no hint of ice or snow.
They would start their weekly trips immediately after school ended on Fridays and get to the ski lodge by early evening where they would settle in and get ready for an early morning of skiing the next day.  After a hearty breakfast, they would hit the slopes for a full morning of skiing followed by lunch, packing the car, and starting back down the mountain for home.  As my daughter was describing this to me, I kept thinking about how I wouldn't enjoy it and wondered how they found all this so great.  She didn't really have a deep answer but affirmed that it was great for them.
It was weird.  She was telling me how great the skiing was, the relaxing the heated pool and sauna was, how invigorating the fresh winter air was, and the infinite moments of family time shared and all I could think about was driving on icy roads, hitting a tree while skiing, how much all this must cost and how much cold weather annoys me.
What is weirder is that when she was the age that her children are now, I was the one planning the adventures!  I was up for anything and wanted to experience as much as I could with my children.  Where did that guy go?
Sadly, but to be expected, my daughter's family will have to be changing their plans this year.  Their oldest son is now in high school and Friday evenings are filled with activities and events he doesn't want to miss but will change the family routine.  Nothing stays the same.  Now the family will trade ski trips for football games and band trips.  I am sure this is the start of many more such changes. Such is how it is with life in this world.
It is always fun to step into the world of one my children and see how they are choosing to navigate their lives.  Often times I see them duplicating some of the same tactics I found myself employing and a quietly think that maybe they really enjoyed growing up in the family God gave them.  Other times I marvel at how they have chosen a drastically different path and marvel at their ingenuity and grit.  I am grateful to be included in those family moments with them because while I don't completely understand the appeal, I do love being included.
In the church, we are all in different stations in life.  As we casually look around to see how others are navigating life, we will probably discover some vast differences in strategy.  My hope is that all within the body of Christ will feel accepted by Christ and by one another in His family.  I know this lofty goal is not easy to master but strive to move in that direction anyway.  Part of the way we can intensify our connection to others in the body of Christ is by prioritizing those moments when God calls us to be together.  Every Sunday, God calls His faithful to come together for collaborative worship and mutual building up.  This "family time" is critically important to our continued walk with Christ, including His passionate desire that we live in relationship with one another.  Just like being in the room with my family a couple of weeks ago is a dramatically different experience than just seeing a picture of it or being told about it, so being absent is more than just not being present.  Connection requires commitment and commitment is reflected in that in which we are connected.
Perhaps today is a day to review your strategy as a Christ-follower, particularly as it relates to others in His family, your brothers and sisters in Christ.  Do others in the body of Christ sense your commitment to be connected to one another?  Is your presence yielding a feeling of commitment and connection from others?  May we all richly treasure the gift of "family", the body of Christ, God has given to us and may we relish the feeling of His acceptance and that of others in the family!