This week finds me writing this blog a bit early in order to head back to Kansas to attend the funeral of my Aunt Frances.  I don't know if she ever made a trip to Mississippi or not but I am sure that she would have if she still had been physically able.  Frances deeply loved her family!  I know that loving one's family seems to be a pretty commonly held view but certainly in the case of Frances, it was verifiably true!  I get to say a few words at her funeral and it will be a joy to do so.  She is obviously on my mind as we prepare for the quick trip so I thought I might mention a couple of things about her here that y'all might hopefully find encouraging or instructional.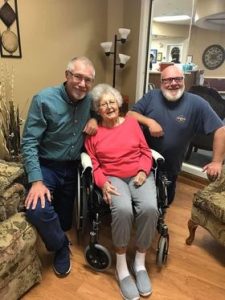 First, Frances would grimace at the idea of called her extraordinary.  Though in fact she was.  What made her extraordinary is the passion with which she lived life.  She spent over 40 years in the classroom teaching mostly 7th graders the discipline of math.  She was the kind of teacher that often found her students saying she was their favorite.  She was not the kind of teacher who was a pushover.  Though small in stature she could handle anyone!  She was neither afraid nor intimidated or at least she never showed it.  She was a take charge kind of lady who wasn't afraid to lead or to serve in the humblest of ways.  Never seeking the spotlight, she often had lots of people seeking her counsel and guidance.  She was one of the best leaders I have ever seen.  She was a natural!
She had an extraordinary faith.  She served Christ through the ministries of her Church as a teacher and treasurer.  She also had a soft spot for the underdog which was demonstrated in her volunteer work at an organization called Tri-Ko, which provide various levels of care for children and adults with mental and emotional challenges.  She volunteered thousands of hours, often behind the scenes helping cancer patients get to their medical appointments and working to preserve her communities past at the Museum Foundation.  Often, her humble service led to her being asked to lead those same efforts.  Again, she was a natural!  She was also extraordinary because when life dealt her family the difficult blow of her mother succumbing to cancer at an early age, she stepped up to serve as a surrogate mom to her younger brother during his Jr. High and High School years.  Respected, trusted, valued and humble.
But she was also what many would call ordinary.  She lived a humble existence, never seeking to be rich or famous.  She wasn't a flashy dresser or had a fancy car.  In fact, she often nearly drove the wheels off her cars going to school programs or other events for here nieces and nephews.  She never had any children of her own.  A marriage much earlier in her life ended in divorce and she chose to close that chapter of her life and dedicate herself to others in her family.  She loved Jesus and faithfully found herself in the pews Sunday after Sunday as long as her health allowed.  She ended her days on the planet in a nursing home, sharing a room with another lady.  I never heard her complain but would always steer conversations away from her situation and on to what was happening in your world.
So, in many ways she was extraordinary, especially to me.  I will miss her presence and always encouraging words.  But she was ordinary.  She humbly realized that serving and helping, making situations and people better was the proper path.  She has given me a wonderful role model as a Christian, as a leader, as a family member and simply as the kind of human beings we are supposed to be.  Extraordinarily ordinary!