It's that time of year when our thoughts are turned to family gatherings and a idea of home is frequently present in the forefront of our minds.  For me, home was a beautiful place.  Not that where my growing up years took place was aesthetically unique but rather it felt safe, stable and comfortable.  Today, when I hear the idea of  home being spoken of my mind immediately goes to 712 W. 7th St. in Garnett, KS.  I moved there just prior to my 3rd birthday (I have a vague memory of it still!).  I lived there until I launched out in the Fall of 1978 to start college.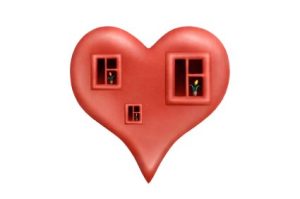 Now I suppose that it feels mostly like home because I have lived more of my life in that place than any other place on earth.  Anytime I find myself close to it, I always pause to go see it.  My parents sold the house a few years before they passed away.  Age and health concerns made it necessary to find a different situation.  They had lived in that house for 49 1/2 years.  While my brother and I were focused on what we were going to do with all the stuff they had accumulated over the years, mom and dad watched the surreal event unfold with only a rare tear.  That place had also been for the them the place they would spend over half their lives.  It was a magical place!  Or so I thought.
A couple of years after the house was sold I found myself back there and took my customary slow drive by the house.  To my surprise, there were people outside working in the yard.  I drove by the house at least 3 more times and by this time the people working were getting a little suspicious.  I figured that before they assumed that Camille and I were casing the place and alerting the police, I should stop in and just say hello and tell them why I was so interested in their house.  In doing so the most amazing thing happened.  They invited us in!
It turns out that a lovely young couple with a cute little boy and girl had bought the house as their first home.  They were pretty proud of it and I think were looking for approval.  As we walked in the house I was immediately shocked.  They had changed it!  I was able to keep my mouth shut as we toured the house and noticed walls in unfamiliar colors and flooring changed.  There were certainly many details that were happy reminders of when my parents owned it but so many differences.  I left the house on 7th street that day and have not been able to see it as home ever since.
Part of our common story as humans is what I will call "a longing for home".  The longer I live the more intensely the desire grows to experience it and the common attempts to discover it are revealed as unsatisfactory substitutes.  No, home isn't a place.  What made "that place" seem like home was the love, time, frustration, victories and defeats "that place" witnessed.  Home is about relationships particularly "family" and the connections we share in life.
Currently, I find myself experiencing a "new home".  I don't mean the place where Camille and I live.  I mean the overwhelming number of new acquaintances we have made through the connections of the congregation where we serve as well as the broader community where we now live.  Every once in awhile someone will ask me, "does Fulton feel life home yet"?  I know what they mean but I often don't know how to answer.  We are getting more familiar with the "unique" way that the streets are laid out.  We have found favorite places to shop and eat.  But feeling like home with respect to the relationships we have developed is still very much a work in progress.  It just takes time and it can't be hurried.  But I can report that we have met some beautiful people who getting to know better in the future is something we look forward to.
As I get older, I also realize that the world as it stands now isn't my home.  The corruption that still persists as Christ's Kingdom inaugurating work moves forward until He returns.  When He comes again to finish the work launched at the cross:  to renew the world by ridding it of all that defiles it and seeing it merged together with the new heavens, then I will be at home.  In the meantime, I wait and grow with others who share the same hope I have described and partner together to help others share it as well.