It's been about 2 months since Camille and I moved to Mississippi.  It has been a wonderful experience even though we have had to face some challenges that have made getting acclimated more difficult.  A few days ago, we decided we needed to get out of town for awhile and took a drive to some "new territory", at least for us it was new.  We headed east out of Fulton and soon found ourselves in Tremont.  I had heard of this town since moving to Fulton and seen it on my map.  We discovered Tremont is the birthplace of Tammy Wynette!   We then proceeded south and traveled until we came to Smithville.  We looked around a bit and then headed back north to Fulton.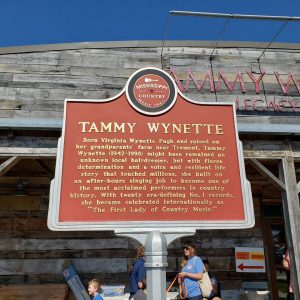 Those of you from NE Mississippi know that our little trip was hardly a trip.  The whole journey took less than an hour!  While it was nice to get out and see some new things I noticed 2 competing feelings with each mile we traveled:  Amazement & Anxiety.  I felt amazement because of all the beautiful, tall trees that blanket the road and because of the wildflowers that are like carpet.  It is a wonderful thing to experience nature for the first time and be dazzled by its beauty!  I felt anxiety because we were traveling on a new road and the further we drove I noticed the map on my phone wasn't functioning properly.  I knew sort of where we were heading but since I hadn't been there before, I was anxiously looking for some sign or clue that confirmed where I was.
For those of you who regularly travel the route I have described I wonder if either of those feelings is common with you.  I doubt it.  I doubt you feel amazement because you have traveled the road so often and it is so familiar that all sense of amazement is gone.  I doubt you feel anxiety because you know exactly where the road is taking you.  Perhaps you have even noticed familiar landmarks or signposts that you have now grown used to seeing.
Biblical Hope is like this.  The more we see Biblical Hope, the bodily resurrection of Jesus as the signpost or landmark given to us by God as we navigate life, we will discover an ability to face the challenges of living as a Christ-follower in a world that refuses to acknowledge Jesus is the Sovereign Lord!  On the other hand, if we have doubt or uncertainty about the future, we can't help but feel anxiety.  Once we have our minds and hearts settled on what God has promised to those who are His, we will be much better able to travel even in unfamiliar territory with confidence (faith) and purpose (love).
My prayer is that as we investigate the Hope of the resurrection more closely, it will wash over us all in powerful ways that enable us to embrace the roles given to us by God!