I have noticed as the college football playoffs have wound down and the NFL playoffs are gearing up that something, if it is being done well won't be noticed, but instead is getting lots of attention.  It seems the referees are having a bit of a down year or at least that's what many sports experts will tell you.  Apparently the efforts of some referees has been so bad that the powers that be are talking about making changes that we are told will correct the problems or at least make them much better.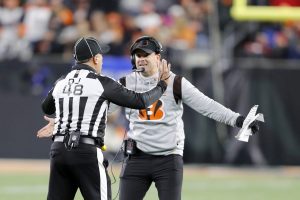 This process which the leagues officials oversee is good I suppose if it helps make the referee's decisions more clear cut and obvious for everyone but they still don't solve 2 nagging realities:
First, the problems of officiating are not unique to this year.  Every year there are problems to one degree or another.  Every year the seasons end with people meeting, discussing and perhaps implementing changes, and then we wait for the new season to see the changes but notice that while some things may have been made better, problems still remain and not everyone is satisfied.
Second, and almost certainly forgotten are the teams who have been the victims of poor officiating and have had their season's efforts hurt by such.  I suppose it is some kind of moral victory to have the world acknowledge that the referees made bad calls in your competition but how is that going to really change anything?  The game is over.  The effects of the bad officiating won't be made right because there is no mechanism to do that.
Interestingly, we seem to accept the realities of what I am describing.  Life goes on and there will always be another season of competition with the same problems, with victims who have been unfairly effected, and a keen determination to make the situation better that doesn't live up to the high goal it desires.
What I am describing is an example of how life in this world works.  We could apply the same scrutiny to virtually any area of life and see a very similar pattern emerge that mirrors what I have been describing.  The problem is a consequence of living in a fallen world where humans, even those very competent and trying their best will not always be successful.  In addition, we discover that the ways available to us to "make things right" when something has gone awry are at best limited and at worst, make the situation even worse.
Navigating life with these realities can be very challenging and tiring.  Within us, because we were created in the image of God, we possess a heightened sense of justice.  We are often quick to point injustice out when we see it and seek to rectify the problem.  Like what I have been describing though, our efforts to rectify or "make things right" run into obstacles, factors we hadn't fully considered, and limited results.
In response to the realities of a fallen world, many Christians have essentially given up trying to rectify what we clearly see doesn't match the vision of God for His creation.  The forces of evil are well entrenched and we have seen enough of the futility I've been describing to just throw up our hands and wait until Jesus returns to make all things right.  While I certainly can sympathize with those who are frustrated with "life in the present world", I would remind my fellow Christians of an important Kingdom objective.
Christ envisions a partnership with His people to carry the Gospel of the Kingdom to everywhere and seek to influence the broken systems within this life that reflect the corrupting influence of the evil one.  We are forced to navigate life with two realities:  life in this world is messed up, filled with injustice, and much of it won't get completely settled until Jesus returns AND Christ followers have been redeemed and as such redeemed persons have the privilege to working in concert with our King to stare down injustices even though their final resolution is yet to come.
The tension of these two realities can be difficult to negotiate and will lead us to places of frustration if we don't preemptively prepare for it.  We do have the Holy Spirit who is guided us and helping us to stay focused and not overwhelmed.  We have Scripture to remind us of what true bedrock is so that our lives can confidently be built upon it.  We have prayer as a way of help our focus, release our heartaches, and be reminded of God's desire:  "His will on earth, as it is in heaven".  I also think it is helpful for Christians to share with one another the struggles, challenges, setback, and victories as we seek to live out our calling in Christ.
My hope is that you won't grow weary of doing good but instead confidently labor for the King, knowing one day it will a be right!