One of Camille and my favorite pastimes is sitting on the back porch and watching the birds.  I think I learned this joy at a very early age.  As a boy growing up there were always bird feeders, bird houses and even a bird bath to provide for the birds as well as to provide enjoyment for us.  Part of our ritual when visiting my dad in the final months of his life at the nursing home was making sure the birdfeeder outside his window was kept supplied.  Today, we feed the birds and watch as them painstakingly enjoy what they find.  We find the whole process very comforting and satisfying.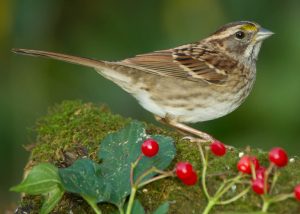 One type of bird that has particularly been interesting to watch has been the sparrows.  Sparrows are not at all the most exotic or colorful birds to visit our yard.  Indeed, the sparrows are probably the most common and ordinary looking birds we see.  What got me to pay attention to the sparrows was something I read in Scripture.  Apparently God is a big fan of birds!  When a teaching in what we typically call the Sermon on the Mount, Jesus draws his audience's attention to the way God feeds the birds.  He was trying to help His hearers consider a different response when tempted to worry.  God values you more than birds and look how He makes sure they are provided for!  Additionally, when teaching about how to respond when fear is felt, Jesus references the comparatively greater value humans have when compared to sparrows.  Again, if God provides for the probably most common, under appreciated bird there is, how much more will He provide and value you?
Sparrows are mentioned 7 times in the Bible.  There is something about this common bird that can be examined and used to illustrate some other idea God is seeking to communicate.  And so I watch the sparrows.  They are average flyers, frail and not really all that pretty.  I doubt anyone ever put a sparrow in a cage to enjoy in their homes.  When people talk about birdwatching they rarely ever mention sparrows because they are so common.  No, its the cardinals, the hummingbirds, the wrens, the bluebirds and the orioles that usually catch our attention and our wonder.
Can I encourage you to hear Jesus' idea to "consider the sparrows"?  Look past their lack of color and their commonness to see a reality that might bring a tear to your eye.  God values a bird that most of us don't even see anymore.  They are nothing and yet they are valued by God!  Fear and Worry are twin factors that divert many Christ-followers from a more joyful, purposeful walk.  Sadly, many see chronic fear and worry as dimensions of their life that they don't see ever overcoming.  As you might expect, God's Word has answers, one might even call them prescriptions, for chronic fear and worry.  But many Christians refuse the take the medicine!  We can't believe that doing what the Scripture says will really have any effect on a problem that we probably can't remember a time it didn't exist within us.  How could "considering the sparrows" be a real solution?  How can prayer, with thanksgiving, bring the promised peace of God?
If you are dealing with fear and worry maybe what you need to do is come sit on our back porch and watch the sparrows!  I know, it sounds absolutely ridiculous but strangely when I am feeling anxious, giving my attention to the sparrows is soothing, reassuring and healing.  It doesn't eliminate the temptation to  my respond to life's challenges with fear.  It does invite me to put the stresses of life into their proper perspective and minimize the impact of worry and fear.   It also makes the next time the issue comes up easier to more quickly follow the wise counsel of the One who values me more than the birds.
Hopefully the Lord will bring many sparrows into our lives and that we will be wise to stop and look and listen to the messages the Lord is sending through them!