Last year, shortly after we moved to Mississippi, I found myself looking to buy a lawnmower.  We hadn't brought one with us when we moved as we were living in an apartment so mowing was a chore I gave no thought.  I have to admit I was a little excited to buy a new lawnmower.  I know that sounds a little weird but it was true.  I looked around in a few places and decided on what I thought would be the perfect fit.  Since my yard is rather small, I was looking for a self-propelled push mower that had the widest blade cut I could find.  My logic was that the wider the cut, the less number of swathes would be required.  I thought the self-propelled aspect would be great because since I am getting older, I can use all the help I can get!  I walked out with the perfect machine and I remember thinking how I would use this mower for many, many years so not to worry about the price.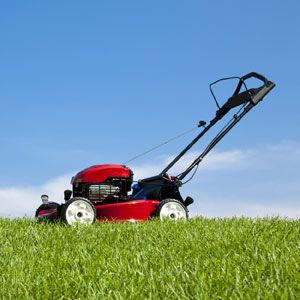 Last week, I bought a new mower.  The wonderful mower I was so convinced was the right fit wasn't.  I would have continued to use it even though there were several aspects about it that repeatedly bothered me.  It was heavy, awkward and wouldn't fit through some of the narrow passages that exist in the yard.  What settled the issue to buy a new mower was when the mechanism regulating the self-propelled dimension suddenly stopped and to fix it was going to be too expensive in my opinion.  So, I bought a new mower.  After having used it already, I can tell it is going to be a vast improvement.  Let me tell you about it.
First, it is the narrowest cut that I could find.  I figured that while I might have to make a few more passes with a narrower cut, I would save time by being able to easily navigate around the obstacles in the yard.  Next, I bought a mower that was not self-propelled.  I realized by pushing my broken mower without the self-propelled mechanism working that it was vastly heavier than one without it.  The mower I bought is very light weight and easy to push and I don't have to bother with the self-propelled mechanism that never seemed to run at my pace, either too slow or too fast.  Again, the result of using my simpler, smaller mower was better.  It took me 15 minutes less time to mow and much less frustrated.  Bigger isn't always better, Better is Better!
I first heard that adage, "Bigger isn't always better, Better is Better" while attending the Purpose Driven Church Conference at the Saddleback Community Church in Lake Forest, California.  This is the congregation founded by Rick Warren that at one time was the largest, fastest growing congregation in the country.  Everyone was flocking to California to hear the "magical formula" that enabled the huge success they were experiencing.  It was in the first session of the conference that Warren shared the adage which he was giving as a warning to Church leaders that the standard they should be striving for is Better, not Bigger.  He fervently warned us to hear the principles he was sharing but not with the intention of trying to duplicate them in their home situations.  He insisted the results wouldn't be the same because every congregation is different.
I remember hearing it, but I didn't really "hear" it until much later.  I and so many other leaders came back to their respective congregations with big plans, radical changes and the insistence that this was going to solve pretty much all the problems the congregation might be experiencing.  I don't know how many crash and burn stories I heard about Church leaders who didn't heed the warning and either messed up an unsuspecting congregation or their career.  At the end of the day, they were more interested in having a Bigger Church, no matter what.
Since then I have been living the reality that Bigger isn't necessarily Better, Better is Better.  I am defining "Better" with a goal of assisting congregations to be even healthier.  Here is how I believe Healthy congregations will be:
Healthy congregations win people to Christ, teaches Christ-followers how to be true Christ-followers, enlists and trains the Body to greater places of Service and produces leaders like missionaries, ministers, chaplains and church planters.  Healthy congregations exist in all sizes because of a variety of reasons.  Its not the size, its about whether or not the congregation is in fact Healthy.  Healthy congregations can be found in all sizes and communities.  We just need to remember what Better really is and then be determined to settle for nothing else, no matter what size.
Who knows, maybe the adage is also true about lots of other things than lawnmowers and congregations!