With 10 days left until the big day of Christmas arriving, a popular question is "are you ready for Christmas?"  I know that virtually everyone is busy with activities that include meal planning, gift securing, party attending, tradition making, and more.  If we are ready, the list has been checked off as completed or is about to be and if we aren't ready, we are dealing with the overwhelming sense of stress as we wonder how it will all get done.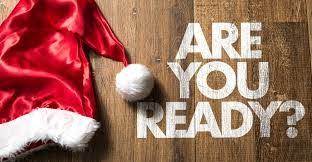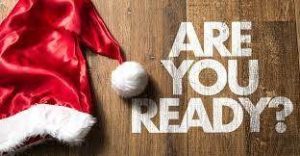 It is really amazing how much is attempted to be accomplished in a short window of time.  My sense is that folks, especially those with school age children are about worn out and I can see it on their faces.  I remember those day when it seemed like the objective was to get everything done that needed to be done and often times the list of activities was so long that all I could muster is just getting it done and not really savoring all the meaning and tradition this worth activity was supposed to be expressing.
We probably all have heard the call to slow down and really celebrate the season but that is really hard to do when there's barely a moment to simply breathe.  I am enjoying the completion of various responsibilities that are unique for this time of year.  My list of things to do before Christmas is looking much more manageable and I am feeling much more open to not simply existing during this season but to look reflectively and think about what it all means.
Reflection and thinking require an unhurried life.  I honestly used to avoid such a life because it seemed that when my life got quiet, questions would arise that often were uncomfortable for me to seriously ponder.  Questions about my priorities and my walk with Christ were the first to emerge.  These would be followed by why am I here, am I making a difference in this world, and am I the type of husband and father I should be.
The antidote to such questions is activity.  As long as my mind was running from here to there at a frantic pace, I wouldn't have the time or energy to give these questions a care.  This seemed to work until December 26 arrived.  Between it and the end of the year is the time when many folk take a break from the frantic pace and just take it easier until the first of the new year.  For many years it was in that week of slowing down that left me feeling rather blue.  For lots of years I couldn't figure out what the problem was.  Then it finally dawned on me when I seized the opportunity it presented for reflection.  So much of what I have been doing in anticipation of Christmas had absolutely nothing to do with Christmas!  It's not that these were bad things but in honesty the only thing making them "Christmasy" was the time of year they were held.
I guess what I am driving at just 10 days before Christmas is balance.  Please enjoy the many family and community traditions built around this time of year.  But don't like me ever think they will replace the real significance of God coming into this world as a man.  In fact, let me challenge you in these last days before the big day.  What new dimension of Christ's arrival will you discover this year?  We all are probably aware of how His coming led to His giving His life as a sacrifice for our sins.  While this reality is world-changing, there are many more dimensions that can be equally faith-shaping.
I will be sharing about a common factor that is essential to discovering what I am referring.  I hope you will join us on Christmas Eve at 4 pm as we look at it together.  Merry Christmas!