I still can't stop thinking about the most profound thing that happened while Camille and I were visiting grandchildren in Texas.  While staying in Galveston and enjoying a glorious sunny day, we stopped into the local Chick-fil-A restaurant for a little lunch.  Before we could order our food we were shocked to discover a familiar face, although dressed in Coast Guard blue.  After doing a double-take or perhaps a triple-take I heard the man's name coming from my mouth with a hearty hug to follow.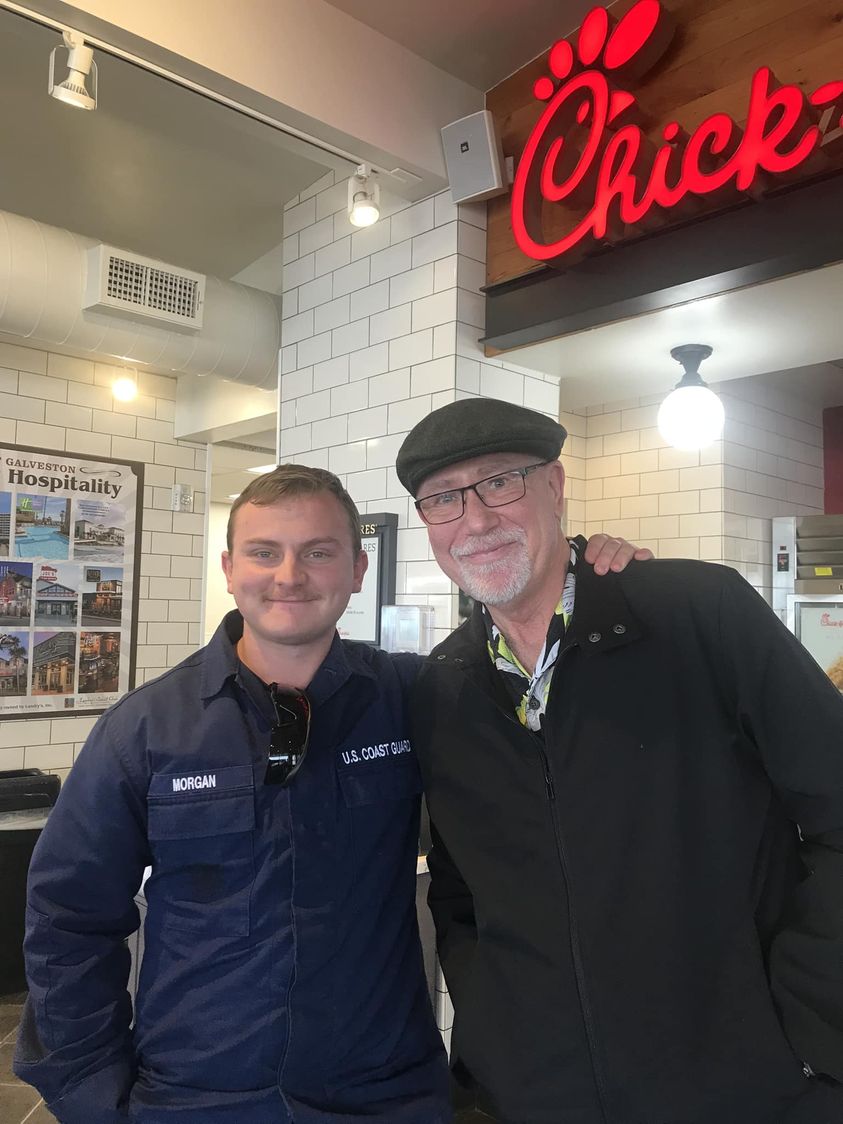 The idea of encountering someone we knew in such a random place and time was pretty astounding.  I would describe it as an example of serendipity.  One definition of serendipity is "a combination of events which have come together by chance to make a surprisingly good or wonderful outcome."
While there are other definitions for serendipity, this one is how I tend to think of the word and why I would describe the encounter as such.  This was not the first time I have experienced such an event.  I can remember perhaps a dozen or so such occurrences over the years of my life that have been similar in nature.  I remember one time on vacation in Washington D.C. having a similar encounter with Al Roker.  While I had never met Mr. Roker, just that morning I had commented to my children something about him and literally an hour later, I was shaking his hand.  Weird!
I am glad that my most recent example of serendipity was one that I was able to get over the weirdness of in order to seize what I think the purpose of such events is.  I know that not all will agree with my assessment of such events, but I tend to look at them as "divine appointments".  What I mean is that I think this wasn't and event left up to chance or fate but rather we were at the right time and right place.  The only question remaining was what is the purpose of this strange meeting?  Thankfully, I was able to have a few moments to visit with him and delve a bit deeper.  In that time together I learned that he had been thinking about Mississippi and how there he was always called by his first name, not his last name.  He missed that simple aspect of life and wouldn't you know it, when I finally realized he was someone from back home, I referred to him by his first name!
Finally, when we sat together for just a few moments I shared with him how proud everyone is of him and inquired into his future plans for the Coast Guard and beyond.  While the moments quickly passed, I felt a connection that I hope was encouraging to him as I know it encouraged me.  We sat in that restaurant and prayed together and in a flash he was gone.
What this and similar events have helped me to believe is that there is no such thing as coincidence.  I believe there is something much more profound and spiritual going on.  I expect the Holy Spirit to lead me in such a way that seeming random encounters happen more and more.  I keep my head up and look around at people and situations with the idea that the next serendipitous moment might be just around the corner.  My hope is that when the next one occurs, I will be ready to speak a word of encouragement into this bizarre event and not be overwhelmed by the mystery of it.  Is it possible that the Spirit might be leading you in a similar way?