Lately, my mind has been fixated on time.  Often my mind will start to wander off in the direction that invariably poses a "When" question.  Like you, I am feeling the pressure and confusion related to Covid 19.  When will the virus subside?  When will people feel safe to resume activities?  When will I stop seeing people wearing masks?  The questions are unending.  The answers are not obvious.  That's the problem.  I think I finally figured out the biggest problem I am having with all of this isn't that life has been interrupted, the bigger issue with me is that there isn't any kind of consensus as to "when" this pandemic will end!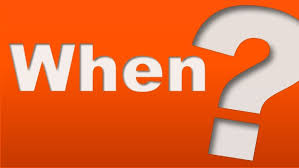 I remember how exited I was to hear that life was starting to open back up.  With each new level of opening I was happy.  Now, as we are seeing a return and some say even more desperate results, the fear is that I the progress made over the past few months will be undone and we will revert back to when everything was closed.  I don't know about you but when I sense that an opportunity may be slipping away or that the tide is about to turn, I want to make the most of the time because I know a change is coming.  This weekend, we at the Itawamba Christian Church will be resuming weekly Sunday School classes in addition to our in person Worship.  I don't know how long it will be practical to do that but for now it seems like it is a reasonable thing to do.
I want to encourage all the teachers to think about something as you make your final preparations for this Sunday.  What if this was the last time you got to teach your Sunday School class?  We have suspended Sunday School for 18 weeks!  Could you ever have imagined that something like Sunday School would just stop for 18 weeks?  It could still happen again!  So, how would you prepare differently if this was your last class session?  I suspect that you would really pour your heart into it.  I suspect you would do your best to communicate to your students how they will need to find ways to replace these weekly teaching windows.  I bet the class would be over before you knew it or before you got said and expressed all you wanted.
What about you Sunday School students?  How are you approaching this resuming of Sunday School?  Are you prepared to soak up everything your teacher has prepared for you to grow in your faith?  Will you be in place as the class begins and fully engaged with the lessons of the day?  The lessons taught in Sunday School are some of the most profound yet devalued often within the Church!  I am asking student and teacher alike to rethink this.  I am asking myself to make sure I am preparing my Sunday School lesson, my sermon, my Bible Study lesson to be something I and the Lord would be proud of if in fact it's my last one for awhile or forever.
So, let's get ready today!  Let's make a list of what we need to bring with us this Sunday for Worship and for Sunday School.  Bring your Bible, your rested self, your repentant and eager heart and your love for King Jesus!  And I have said this before and I will say it again:  If anyone needs a Bible, simply let me or Camille know.  We will happily place one in your hands.