One of my favorite teachers in high school was a guy named Paul Massey.  Mr. Massey taught vocal music as well as some other related courses like Music Theory and Music Appreciation.  I met him when I was in Jr. High as he was also the music teacher there as well.  I was immediately drawn to him first of all because he was a man.  I had never had a male Choir teacher before and because singing was one of the things I enjoyed and was pretty good at.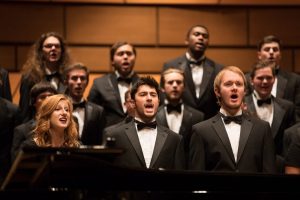 Throughout my Jr. High experience I took lessons from him and competed in all kinds of music festivals as a soloist as well as a member of several different ensembles.  I attribute much of my ability to be in front of large groups of people and sing or speak passionately to him.  He taught me that while the music was a series of musical notes, it was much more than that.  The composers were expressing their passions about whatever the song was about.  He taught me that while in some ways music is a science, a language, but also he taught me that music is art.  One of the highlights of my 8th grade year was being cast in the high school musical production of "The King and I".
When I left Jr. High and entered 9th grade I was very excited.  Mr. Massey encouraged me to try out for something that no 9th grader had ever been permitted to do.  The choirs were divided in the high school into 2 groups.  There was the Varsity Choir which was made up of upper classmen who auditioned and were chosen and there was the Jr. Varsity Choir which was made up of all 9th graders and any upper classmen who wanted to be in a choir but weren't chosen for Varsity.  Within both of those Choirs were ensembles of various sizes that performed at contests and concerts.  Each Choir had a group called 16 Singers that was made up of 4 singers of each part.  This is where I was hoping to break into new ground!
Mr. Massey had asked me, a 9th grader, to try out for the Varsity Choir's 16 Singers.  This was unprecedented and I was really honored.  On the day of the tryout I was nervous and intimidated.  I naively thought that everyone would be excited to have another good voice in the group.  They weren't!  Nobody wanted me there!  Even my own brother, a Senior, didn't hide his displeasure.  When the results of the audition were posted I was not chosen.  I was devastated and angry.  Mr. Massey had led me to believe that my being chosen was all but certain.  When I asked him why I wasn't chosen he told me that he had to do what was best for the ensemble.  He said my individual audition was best in my part but when I sang with the others, my voice was too dominant.  The point of an ensemble is for the group to sound as one voice, not just a group of voices.  He said, why don't you audition for the Jr. Varsity 16 Singers group?
I did and I didn't get chosen for that one either!  Now, I am so angry that I was ready to quit music altogether!  When I asked him why I didn't get selected for that group he looked at me and told me my attitude stunk!  He said I was acting like I was too good for the group and that wouldn't fly in an ensemble.  I didn't quit but I didn't get over it for a long time.  As my high school years passed, I took to heart what Mr. Massey had told me and made some adjustments.  As a Senior, I worked for him in independent study.  My task was to assist him in directing the Jr. Varsity Choir.  Their final concert of the school year found me sharing the baton with Mr. Massey as we each directed 2 songs.
Mr. Massey taught me to use my strong voice to be a leader of others who lacked confidence and maybe musical ability.  He convinced me that to help others to be able to sing without fear or hesitation would intensify the quality of the whole choir.  Mr. Massey helped me to grow up and also learn a valuable lesson about life.
Today, I don't sing in a choir.  Instead I have the privilege of sharing in the development of God's people.  I hope I have the patience Mr. Massey showed me and so many other students to find their voice and to confidently use it with others.  I hope I will have courage of Mr. Massey to lovingly correct one of those people when they are tempted, like I was, to go it alone or think they are better than everyone.  Yes, Mr. Massey was one of my favorite teachers.  Not just because of what he taught me about music but what he taught me about life!