I don't actually remember the first time I went to Vacation Bible School.  I do have a picture of me, about 4 months old, being held among a throng of people posing for a picture to memorialize it.  Summer after Summer as a child, youth and now adult, Vacation Bible School has been a predictable event on my schedule.  Itawamba Christian Church just completed our VBS and I wanted to share some reflections about it as well as VBS in general.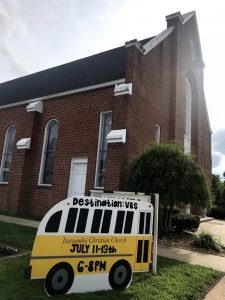 Our theme this year centered around the Bible character Noah and building of the Ark.  Evening by evening we focused upon a different dimension of this decades long project.  First, we explored the strange demand of God that Noah build an Ark.  The celebrated Noah's obedience to God especially since Noah didn't have as many details as perhaps we would if we were facing this task.  Despite it all, Noah obeyed God.  The point of course is that just as Noah obeyed God, so should we, even when we lack details and to obey would truly be a act of faith.
Next, we celebrated the faithfulness of God by exploring how God was consistent in providing for Noah and this project as well as leading them through destruction and into newness.  We focused upon God's rainbow and how God was using it to continually confirm His covenant with with humanity, especially when clouds appeared with rain.
Lastly, we studied how Noah built an altar, offered a pleasing sacrifice to God as an act of worship.  At the end of this incredible series of episodes, Noah was eager to come before the Lord in worship.
In typical VBS fashion, these lessons were emphasized with crafts, refreshments, songs and my personal favorite:  a different collection of animals each night for the children (and adults) to interact.  Pigs, goats, bunnies, cats, dogs, chickens and even a horse made an appearance at Itawamba Christian Church.  It was so cool and the kids totally loved it!
Now that VBS 2021 is a memory I wanted to reflect upon my favorite part.  I noticed a great team effort from many different people to pull it off.  Hope Spencer did a wonderful job of doing much of the organizing.  Bro. Ryan Christman did a great job of portraying Noah each evening to all the children made it come alive.  And so many others who I wouldn't dare try to name because I would forget someone.  I saw so many great things at VBS that it made me feel great about ICC for now one other reason.  One comment that especially made me smile was the observation of how many "newer people" were jumping in right along those who have been doing VBS here for awhile.  That is a great sign for the future!
VBS continues to be a wonderful method of presenting God's Word to people of all ages.  I have vivid memories from literally every phase of my life related to VBS.  Please join me in praying that our children will remember the lessons from Noah:  Obedience, Faithfulness and Worship. Let's also pray that we continue to invest in our children.  As our world gets more and more confusing and uncertain, the lessons taught at VBS and other Church programming like Sunday School, Church Camp, etc. become even more valuable and essential.